If you haven't heard of green chutney, then prepare to have your life changed. I'm openly addicted to sauce and one of my absolute favourites is the green chutney. Yes, that's how good it is. 
We have many sauces at home. They include but are not limited to: Sirarcha, Tabasco, garlic chilli sauce, aachars and sambals. Amongst the many sauces we have at home, the one staple is the green chutney.
There are many reasons for this, the main one being the green chutney's versatility.
What to eat green chutney with?
You can have it as a dip, use it as a sandwich spread, use it as a marinade, as a sauce over your chaats…the list is truly endless.  
It's a simple recipe that doesn't take much time or effort but definitely delivers a punch. Just blend the main ingredients together and the end result is a spicy, pungent and tangy chutney that will elevate any dish.
Honestly, it's so good that sometimes I just have it on its own. 
My main con for living in Australia is that you have to pay for sauce as an extra when you eat out. In my opinion, sauce is a human right. It should be handed out in indiscriminate amounts to have with your fish and chips, burgers or whatever else. #sauceislife 
If I could package up the chutney, bring it with me to restaurants and have that be socially acceptable, I definitely would. So I guess you could argue I have a sauce addiction. Maybe I do, but it's an addiction I don't ever intend to get rid of. 
Looking to make something to go with the chutney? Try my masala sweet potato fries. Perfect for a party or as an afternoon snack.
Hope you enjoy this recipe! And if you gave it a go, let me know what you thought of it in the comments below.
Or you can also leave a comment if you're looking to start a sauce anonymous club where we don't try to cure each other of our addiction.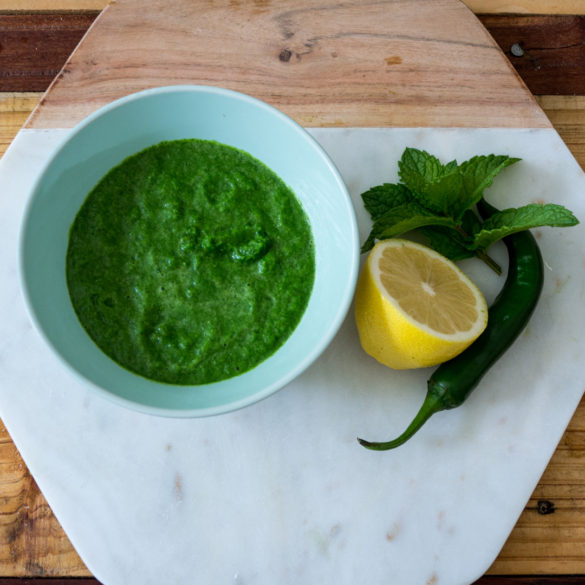 Ingredients
1 cup coriander
1/4 cup mint 
3 green chillies
4 garlic cloves
1/2 tbsp lemon juice
Salt to taste
Method
Prepare your ingredients. Peel garlic and roughly chop herbs and chillies.

Combine all ingredients and blend. 
Add water bit by bit for a smooth blend and to adjust consistency.  
Serve with your favourite snack.
Enjoy! 
Notes
Chutney should be thick enough to be used as a dip, but still runny enough to spread easily onto food. Reduce the amount of chilli and garlic if you want a milder and less pungent flavour.
Did you try this recipe?
Let me know if you enjoyed it! Tag me on Instagram at
@bees_bites_