A mango cocktail with lime and a chilli salt rim – it's the quintessential summer drink. Perfect drink for lounging by the pool, or to have with a Mexican feast.
It's especially good when using fresh, seasonal mangoes. But the great thing is frozen mangoes work perfectly with this recipe as well.
The chilli salt is an optional. But I highly recommend it. It's an upgrade to the regular salt rim on margaritas and the chilli salt adds a spice kick that amplifies the sweetness of the mangoes.
What type of mango to use?
Any type of mango will work for this recipe, including frozen mango. You just want to keep an eye on two things. How fibrous the mango is and how sweet it is.
If you've got an mango with lots of fibre, then strain the mango to remove as much fibre as possible before adding it to the drink.
The next thing is sweetness. Have a quick taste of the mango before making the drink to see how sweet it is naturally. If you're happy with the sweetness then great, use as is. But if it's not quite sweet enough for your liking then add 30ml or 1oz of simple syrup to the cocktail to balance out the flavours nicely.
What alcohol goes best with a mango cocktail?
Either vodka, tequila or gin will work well for this recipe. My spirit of choice is gin so that's what I've used. If using gin or vodka, then try to go for a neutral flavour to let the mango, lime and chilli shine.
Most types of vodka will be fine, just don't use a flavoured one. Although maybe a mango or lime flavoured vodka will work for this recipe.
In terms of gin, a London dry gin is perfect for this. I've used a local Western Australian Gin – The West Winds but so many other brands will work just fine.
But feel free to experiment with other spirits as well.
Watch how to make a mango cocktail at home
Recipe for the mango cocktail starts at 01:05.
More from B's Bites
Craving more fruity drinks? Try my Passionfruit Gin Martini. Or for something more bubbly, give my Elderflower Gin Spritz (a.k.a The Hugo) a go. 
Hope you enjoy! If you tried this recipe, let me know your thoughts in the comments below.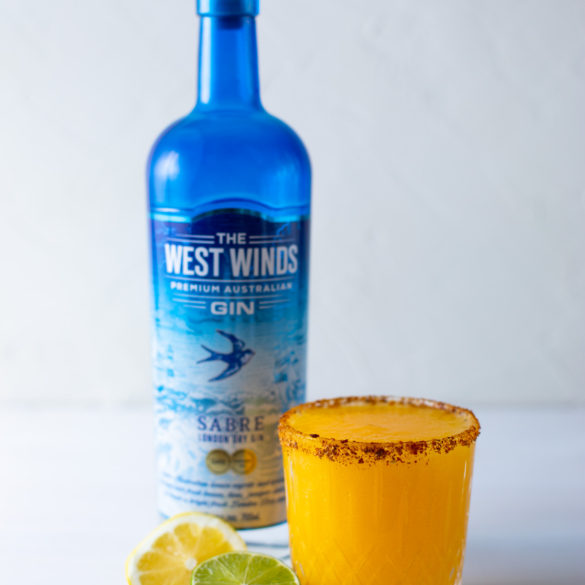 Ingredients
Mango Lime Cocktail
1/2 mango, diced
Juice from 1 lime
30ml (cc) or 1oz London dry gin 
60ml (cc) or 2oz soda water/tonic water
2 large ice cubes 
Chilli salt 
1 tsp chilli flakes
1 tsp salt 
Method
Add all the ingredients for the mango lime cocktail to a blender and blitz till ice cubes are crushed and blended into the drink.
Combine ingredients for the chilli salt and pound into a finer powder with a mortar and pestle.
Take the leftover lime and rub around the rim of the glass you're serving the cocktail in. Take the glass and roll rim around the chilli salt. Cover as much or as little of the glass as you want, depending on how much chilli salt you want to use.  
Pour the mango lime cocktail into the glass. 
Enjoy! 
Did you try this recipe?
Let me know if you enjoyed it! Tag me on Instagram at
@bees_bites_