These coconut truffles with condensed milk are almost too easy to make and are definitely too easy to eat. That's the danger with making bite-sized desserts, once you pop one in your mouth, you can't stop!
This coconut dessert recipe comes courtesy of my mum who has made them for every Diwali for as long as I can remember. At home, we call them coconut balls but you can also call them coconut ladoos, coconut barfi, coconut snowballs or coconut truffles.
The great thing about this recipe is that it's incredibly easy to make, requires only a few ingredients and they look very pretty when plated up. It's definitely a showstopper dessert that'll be great for Christmas or Diwali parties.
You can choose to leave them plain white, the desiccated coconut will look like a pretty dusting of snow, or you can play around with food colouring to create your own look.
My mum usually makes two to three batches of these for Diwali, using a different colour each time. She'll use red, green and orange food colouring and the multi-coloured coconut truffles definitely look very festive once you've plated them up.
This year, I couldn't celebrate Diwali with my family back home in Singapore. So I decided to make the coconut balls for my Diwali celebrations here in Australia, as a little reminder of home. But of course I had to put my own spin on it and decided to go for a more modern ombré pink look.
Making the coconut truffles
This is an easy, no bake recipe that will only require 15 minutes per batch. All you need is butter or ghee, sweetened condensed milk, desiccated coconut and food colouring (if using).
Simply grab a non-stick pan and on very low heat, melt a tablespoon of butter or ghee. Add in the condensed milk and let it warm up. Then add in the food colouring if using and mix in the desiccated coconut.
This is definitely not a healthy recipe and I wouldn't even try to make it healthy. It's essential to use condensed milk instead of evaporated milk as you need the thickness and viscosity of the condensed milk to make it work. I used two cans of Nestle Condensed Milk to make 50 coconut balls.
Can you make the coconut ladoos without butter or ghee? Probably. It's definitely arguable if we even need to use the butter or ghee. Because you only need a little bit I've just used it anyway. But you can definitely try making it without the butter. I think the butter probably just helps to grease the pan so you don't end up with the coconut mixture sticking to your pan. But if you're using a good non-stick pan then this shouldn't be an issue.
How to get a gradual ombré
Each batch will make 10 to 12 truffles, depending on how big or small you roll them. I made five batches of the coconut truffles with condensed milk as I wanted a more gradual ombré. You can of course make as much or as little as you want.
To get the different shades of pink, simply use different amounts of food colouring to get a nice gradient going. For the first batch, I didn't use any colouring. The second batch, I used one drop of pink colouring and upped it with each batch. I've detailed the exact amount I used in the full recipe below.
It's important to add the colouring in after you've warmed up the condensed milk but before adding the desiccated coconut. This will allow you to judge the intensity of the colouring better and you can make adjustments as necessary. If you add the colouring after the desiccated coconut, the colour won't spread as evenly and you might end up with uneven patches of colour within the batch.
Once you've got the colour right, mix in the desiccated coconut and let it cook for a minute. The mixture should be sticky enough for it to form into a ball but not too sticky that it sticks to the pan or your hand. Add more coconut if it's too sticky or add more condensed milk it it's too dry.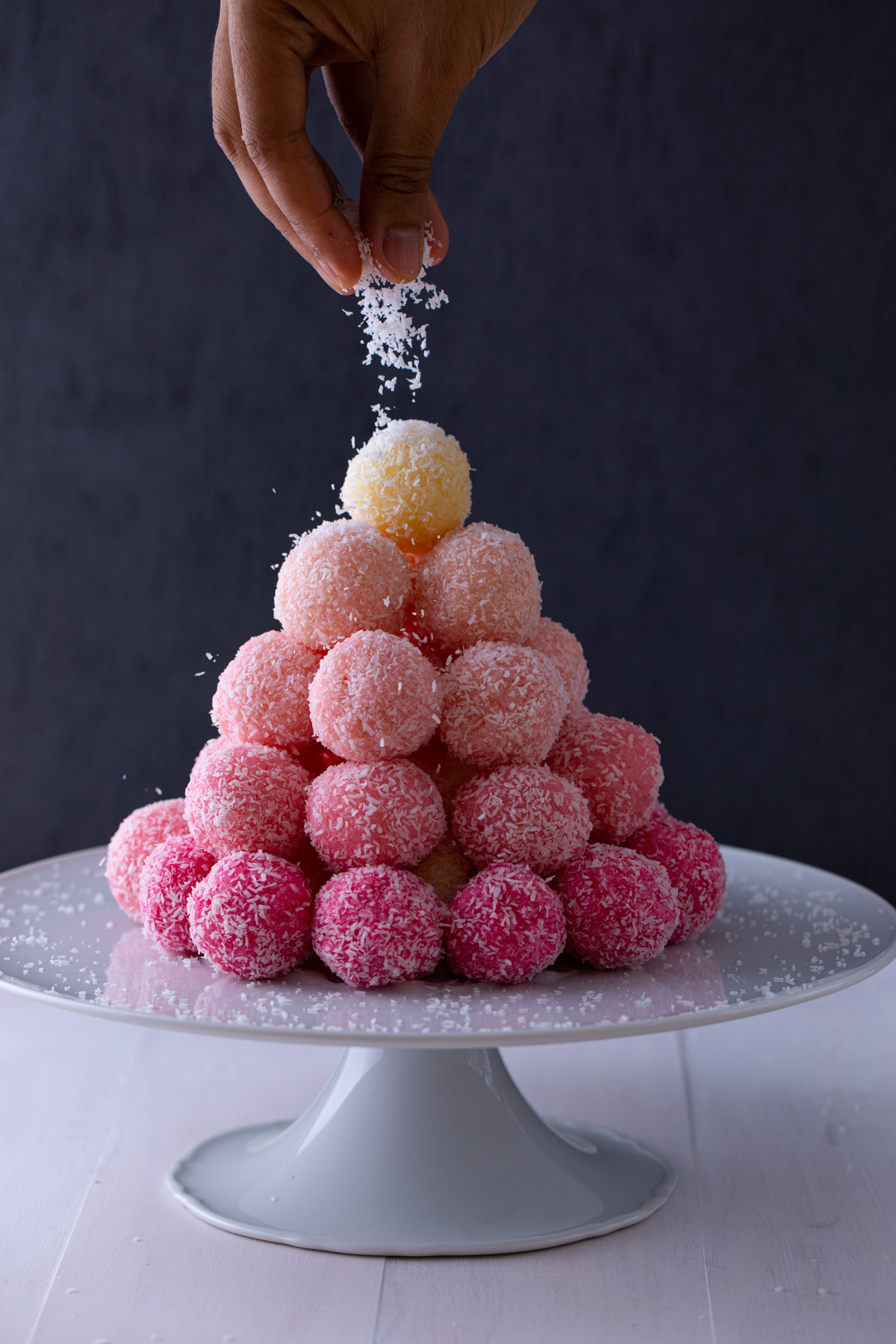 Decorate your dessert
Let the coconut mixture cool, portion it out and roll in between your hands to form the balls. Then roll the balls in extra desiccated coconut to coat the outside. While this is optional, I think this extra bit of coconut dusting really adds to the look.
To plate up, get a cake stand or dish of choice and start stacking the balls starting with the deepest colour at the bottom. I used coconut balls from the first plain batch to fill in the middle as I made my way up the stack, leaving the pretty coloured ones to sit around the rim.
Tip: If you find the balls are rolling around too much and not staying in place as you try to stack them, melt 1 tablespoon of icing sugar and 1 tablespoon of water together and use that as a 'glue' to keep the coconut balls in place.
Feel free to get creative. Making a dessert for a children's party? Use chocolate or rainbow sprinkles to coat the coconut truffles. Or get little lollipop sticks and skewer the balls to make coconut truffle pops. The options are endless really!
More B's Bites recipes
I hope you guys enjoy this recipe.  If you tried this recipe, let me know your thoughts in the comments below.
Craving more sweet treats? Try my Kaju Katli – it's the most delicious cashew fudge. Or for something a little more refreshing, give my mango pudding with coconut milk recipe a go.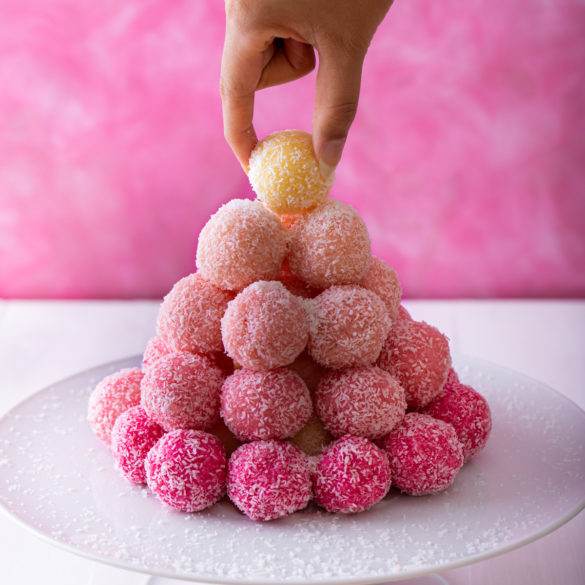 Method
In a non-stick pan, heat up 1 tbsp of butter on low flame and let it melt. 
Add the condensed milk and mix through, letting it warm up. 
In the first batch of coconut truffles, do not add any colouring. The butter will give the first batch a slight yellow hue. 
Add the desiccated coconut and mix through. 
The coconut and condensed milk mixture should be sticky but coming off the pan. Add more coconut if too sticky or condensed milk if too dry. 
If choosing to go for the ombré look, repeat steps 1-5 another 4 times. 
In subsequent batches, add the pink colouring to the condensed milk before adding the coconut. The amount of colouring you add will depend on the desired intensity of colour. 
As a rough gauge, add 1 drop of pink colouring in the second batch, 2 drops in the third batch, 3 drops in the fourth batch, and up to 5 to 8 drops in the fifth and final batch.
Let the mixture cool, portion out and roll in between your hands to form balls. Each batch should get you approx. 10 balls. 
Roll the balls in the extra desiccated coconut as a garnish. 
Stack the balls starting with the deepest colour at the bottom and make your way up. Use coconut truffles from the first batch to fill in the middle. 
Enjoy!  
Notes
If you find the balls are rolling around too much and not staying in place as you try to stack them, melt 1tbsp of icing sugar and 1 tbsp of water together and use that as a 'glue' to keep the coconut balls in place.
Did you try this recipe?
Let me know if you enjoyed it! Tag me on Instagram at
@bees_bites_