My Pornstar Martini recipe has a bit of a twist. I've used gin instead of vanilla vodka and I've also skipped the sparkling wine, choosing to keep it simple and sweet.
This recipe is based on the passionfruit martini I fell in love at the Martini Bar at the Grand Hyatt Hotel in Singapore. It's refreshing, has a beautiful tang and lucky for me, it's very easy to replicate at home!
The original Pornstar Martini recipe calls for passionfruit pulp, vanilla vodka, lime juice and sparkling wine. I've swapped out the vanilla vodka for gin because honestly what am I going to do with the remaining vanilla vodka? At least with gin, I can have gin and tonics too! And I find the sparkling wine isn't very necessary.
You can use fresh passionfruit as well but I find using passionfruit pulp gets you a better ratio of passionfruit. You can add a little more fresh passionfruit into the drink if you'd like. Since the passionfruit pulp already has sugar in it, I haven't added any more. If using fresh passionfruit though, then you'll want to add 15ml or half an ounce of simple syrup as well.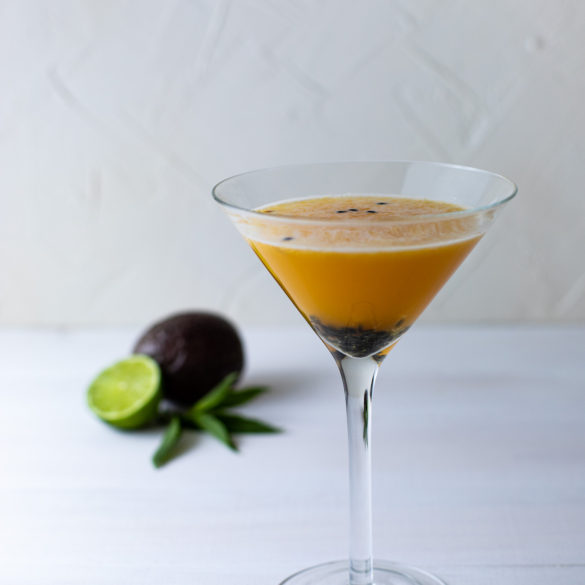 Ingredients
90ml/9cc or 3oz passionfruit pulp
30ml/3cc or 1oz gin
Juice from a 1/2 lime
Handful of small ice cubes 
Method
Add all the ingredients to your cocktail shaker.
Shake till the shaker goes cold and you can't hear the rattle of the ice cubes. 
Use the strainer and pour out into a chilled martini glass. 
Enjoy! 
Did you try this recipe?
Let me know if you enjoyed it! Tag me on Instagram at
@bees_bites_