Cauliflower rice is low in calories and carbs, making it a great alternative to white rice. It can be made in a food processor or using a box grater. My preferred method is using a food processor. It's easy to make and you can have it raw or cooked. Here's a simple way to flavour it and lightly cook it so it becomes the perfect base for just about anything.
How to get fluffy cauliflower rice
The trick to getting fluffy cauliflower rice is not to overcrowd your food processor while ricing the cauliflower.
Cauliflower has high water content – a whooping 92% of it is made up of water. So as you can imagine, it's very easy for everything to turn into mush if you try to do too much at a time.
It's one of those instances where a little bit of extra effort at the start will give you much better results later.
So if you want fluffy cauliflower rice where the granules are more separated than stuck together, then simply cut up the cauliflower into smaller florets and try not to fill the food processor more than 3/4 of the way.
I use my NutriBullet to rice my cauliflower. While I know it is technically a blender, not a food processor, the pulse setting on the NutriBullet serves the same function and does the job of ricing the cauliflower perfectly.
The second (optional) thing you can do for extra fluff, is to toast the riced cauliflower in a skillet or non-stick pan. This will get rid of any extra moisture and you don't need to do this for very long. Two or three minutes will suffice. But make sure you use a non-stick pan or a cast iron skillet for this. You don't want to burn the rice and if you use a pan where you might need to use oil as well, then it defeats the purpose as the oil will turn it into mush as well.
Once you're done, use the cauliflower rice right away (raw or cooked). Or, freeze it in a zip lock bag/air tight container for one to two months.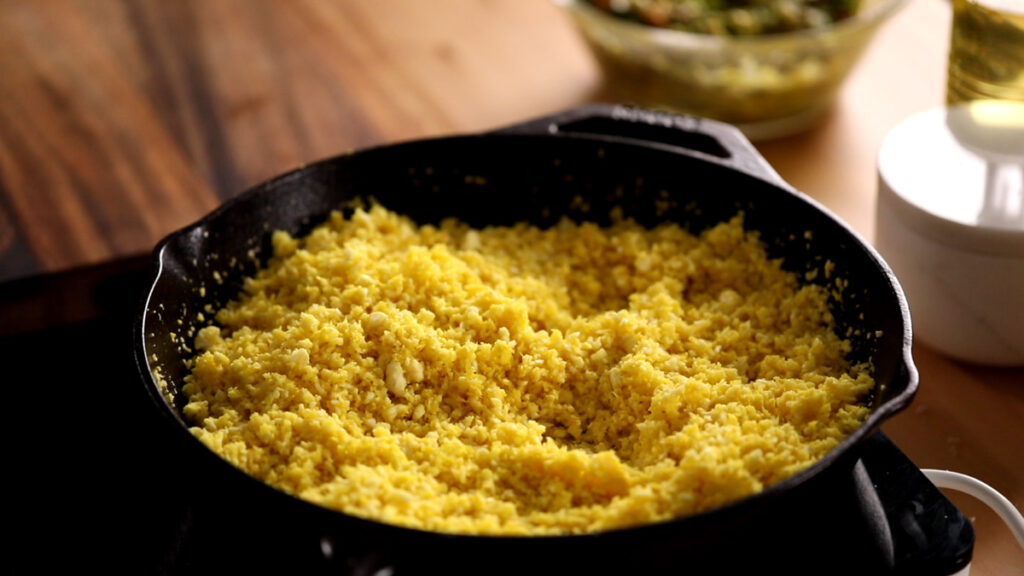 How to flavour cauliflower rice
The thing with riced cauliflower is that it looks very boring. I'm not sure why, rice is white as well and I don't think rice looks boring. But there's just something about cauliflower rice by itself that looks uninspiring to me.
And let's be honest, because so much of it is just water, it doesn't taste like all that much if you have it by itself.
So what I like to do while toasting the rice, is add salt and a teaspoon of turmeric powder to give the rice flavour and a little bit of colour as well.
With turmeric, a little goes a long way, so even just a teaspoon turns the cauliflower rice into a vibrant yellow and immediately I'm more excited to eat the cauliflower rice. If you don't have turmeric powder, then you can try doing the same with curry powder.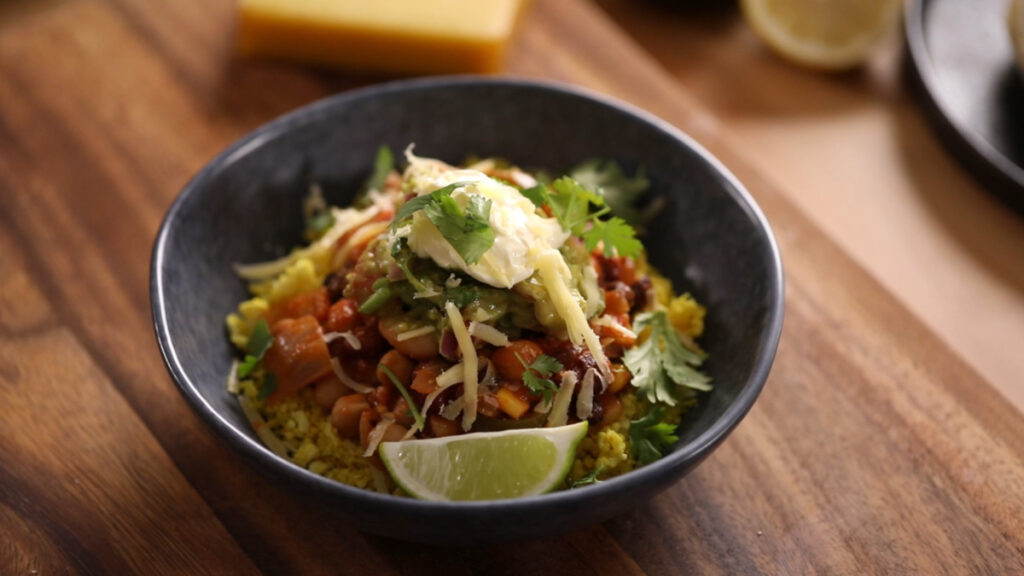 What to serve riced cauliflower with
What to serve riced cauliflower with is truly an open ended question. The options are endless! Basically, anything you'd have rice with you can swap for cauliflower rice.
I've seen many recipes for cauliflower fried rice, I think this would be wonderful and it's on my list to try it that way. And of course, there's the popular option of turning it into a pizza crust as well.
But so far my go to has been to have it as a cauliflower rice bowl with a vegetarian chilli, guacamole and sour cream. The final dish is a riot of colour and flavour.
You can also use the same ingredients and turn it into a burrito if you prefer a more pick up and go option. This has been a staple meal prep option for us at home and I highly recommend trying it this way.
Let me know how you go with your cauliflower rice and what you have it with!
If you tried this recipe, let me know your thoughts in the comments below.
Craving more? Try my Kimchi Fried Rice – another spicy and delicious dish (you can swap the rice for cauliflower rice. Or for something a little different, give my Spicy Chilli Garlic Tofu recipe a go.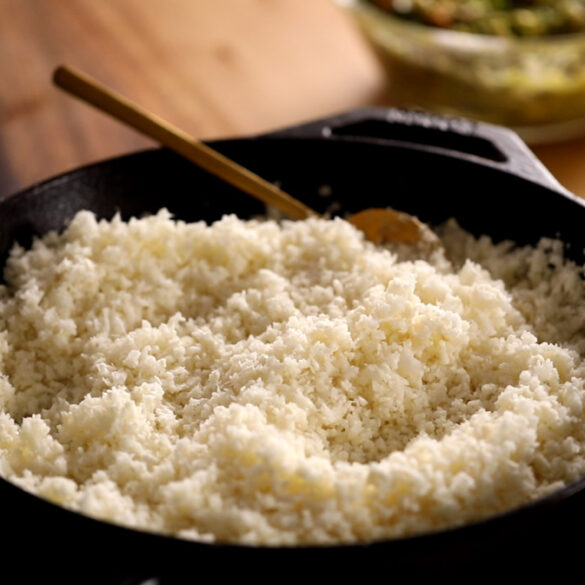 Ingredients
1 medium cauliflower head 
1 tsp turmeric 
Salt to taste
Method
Cut up the cauliflower into smaller florets, discarding the leaves but keeping most of the stems. 
Add the cauliflower to the food processor, making sure not to overfill. Do it in batches if necessary. As cauliflower has high water content, trying to process too much at a time will result in mushy cauliflower rice. 
Blitz till the cauliflower has turned into little granules.
Add the cauliflower rice to a skillet. Use a non-stick skillet or a cast iron skillet. 
Toast to get rid of the excess moisture. 
Add salt to taste and 1 teaspoon of turmeric powder for a little colour and flavour. 
Mix well and after 5 minutes, you should see the cauliflower has fluffed up even more and the granules are more separated. 
You can eat right away freeze the cauliflower rice or use it in a Cauliflower Rice Bowl, turn into fried rice etc. 
Enjoy! 
Notes
You can also flavour the cauliflower rice with curry powder.
Did you try this recipe?
Let me know if you enjoyed it! Tag me on Instagram at
@bees_bites_