A cucumber and mint raita is a quick and easy side dish to whip up and it can be used in so many ways. In my opinion, everyone should have a raita recipe in their arsenal.
A raita (pronounced RYE-TAH) is a spiced yoghurt based sauce mixed together with a number of different vegetables and fruits.
There are many varieties and combinations of raita, including the refreshing cucumber and mint raita, beetroot raita, pomegranate seed raita and much more.
It's typically served as a side dish to a number of Indian dishes, the most popular being biryani or rogan josh.
How to make a quick cucumber and mint raita?
You only need three ingredients and a handful of spices to make this quick cucumber and mint raita. All you have to do is combine yoghurt with grated cucumber, sliced up mint leaves, coriander powder, cumin powder, amchoor or dried mango powder and chilli powder.
If you have chaat masala, you can use that instead. Or instead of chilli powder, you can add sliced up fresh green chillies.
I recommend making the raita about an half an hour to an hour before you want to serve it. But if you're really pressed for time then you can make raita a day ahead.
If you do make it ahead of time then I strongly recommend squeezing the grated cucumber before adding it to the raita to get as much water out of it as possible.
This step isn't as important if you're making the raita just before serving it. But if you leave the raita to sit overnight without squeezing the cucumber then you'll just see a pool of water at the top the next day and it'll dilute the raita.
Once the raita is made, it will keep in the fridge for up to three days.
What yoghurt to use for raita?
I typically uses plain Greek yoghurt for a raita. It's got the perfect amount of thickness and tang. But if you want to make a vegan raita, then you can swap for coconut yoghurt.
What to serve with raita?
You can serve raita with a variety of dishes. Typically raita is served as a side dish to biryani or rogan josh – I have a recipe for a delicious restaurant style rogan josh you can make at home on the site.
The way to eat it would be to add a little bit of raita to each bite. The cool and creamy raita will cut through the spice of the main dish and creates the perfect balance of flavours.
You can also use raita as a dip, or as a dressing with a number of different dishes. Think a lamb wrap, or Feel free to get creative. Sometimes I also have raita by itself, just as a little snack.
What's the difference between a raita and a tzatziki?
Raita and tzatziki are both yoghurt based sauces but where they defer is with what's added to it. A tzatziki, strictly speaking always has cucumber and dill or mint in it. You also add garlic and olive oil to a tzatziki.
A raita on the other hand doesn't need to have cucumber or mint in it to be called a raita. It can have a variety of ingredients added to it and it'd still be a raita. For example, you can have an onion raita, a pomegranate raita, a beetroot raita, a boondi raita etc. You get the picture. There's also typically no garlic or oil added to a raita but instead you add spices.
In conclusion, there are many delicious raita recipes to try. But a great place to start is with this cool, refreshing and creamy cucumber and mint raita.
More from B's Bites
Craving more? Try my restaurant style rogan josh, it goes perfectly with the raita. Or for more restaurant style Indian dishes, give my vegan butter chicken a go. 
Hope you enjoy! If you tried this recipe, let me know your thoughts in the comments below.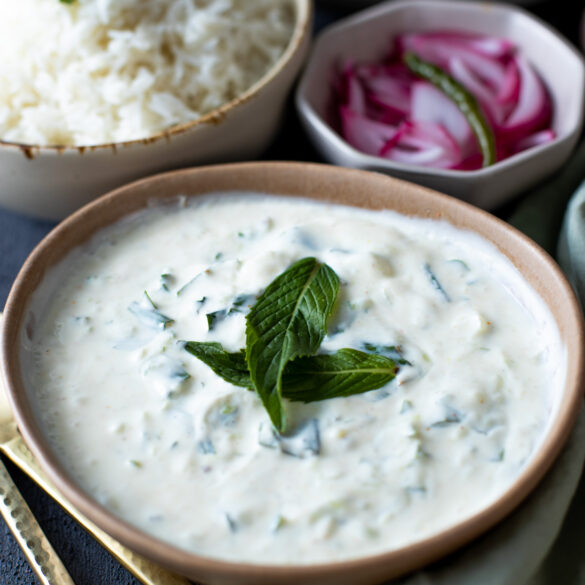 Ingredients
1 cup plain Greek yoghurt
1/2 cucumber, grated 
1/3 cup mint leaves, sliced 
Pinch of cumin powder 
Pinch of coriander powder 
Pinch of amchoor (dried mango powder)
Pinch of chilli powder
Salt to taste 
Or, 1/2 tsp chaat masala (alternative to above spices)  
Method
Add yoghurt to a bowl 
Use a grater to grate the cucumber. 
Add the cucumber and sliced mint leaves to the yoghurt, mix it in.
Add the spices and salt to the yoghurt. Mix it in. 
Serve chilled. Enjoy! 
Notes
As an alternative to the spices, you can use 1/2 a tsp of chaat masala which is a combination of spices that includes the mentioned spices.
Did you try this recipe?
Let me know if you enjoyed it! Tag me on Instagram at
@bees_bites_