The humble cannellini bean is not the first thing that comes to mind when thinking of beans that can be turned into delicious dips. I bet most of us instead think of the ever popular chickpeas and hummus. Now, I love hummus just as much as the next person. But if you're looking to change things up a little bit, I highly recommend trying this cannellini bean dip.
Cannellini beans, for those who don't know, are essentially white kidney beans. They are an excellent source of protein and fibre. Plus they are rich in iron, vitamin B6 and several other nutrients. To sum up, it's really good for you.
Side bonus is that the dip is super easy to make. While there are versions of this recipe that roast the white beans and garlic, my preference is to keep things simple.
My variation involves no cooking with minimal clean up. All it takes is blending all the ingredients together to get a rich and creamy puree that actually kind of reminds me of hummus. So much for switching it up huh?
How to use the cannellini bean dip
What I love about this recipe is the different ways you can use the cannellini bean dip. You can have it as a snack with masala sweet potato fries. You can use it to add a flavour kick to burgers, salads or wraps. Or serve it a party with some tortilla chips for some very happy guests.
One of my favourite ways to use the dip is to use it as a spread in my lentil, quinoa and potato veggie burger recipe. The combination of flavours is truly delicious.
So there you have it, another bean that can be turned into a delicious dip. The next time you're thinking of blitzing up a dip, I hope you try my recipe. And if you gave it a go, let me know what you thought of it in the comments below.
Looking for more easy to make snacks or party food ideas? Try my vegan mango and avocado ceviche recipe.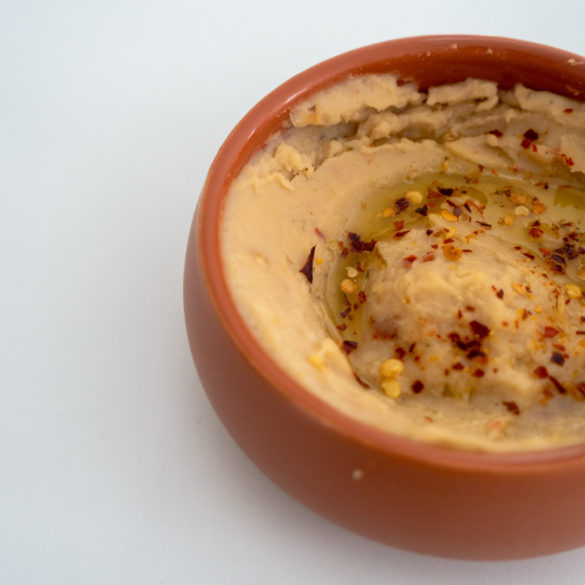 Ingredients
1 can cannelloni beans, drained and rinsed
2 garlic cloves
4 tbsp olive oil
1/4 tsp dried thyme
Pinch of chilli flakes
Salt to taste
Method
Add all the ingredients to a blender.
Blend till you have a thick and creamy puree. 
Enjoy!  
Notes
If you prefer a runnier dip or want to use this as a salad dressing, just add more olive oil to get desired consistency.
Did you try this recipe?
Let me know if you enjoyed it! Tag me on Instagram at
@bees_bites_