If you think a homemade garam masala recipe is going to be complicated, then I'm here to prove you wrong.
Garam masala, for the uninitiated, is a spice blend that's a staple in many South Asian kitchens.
Typically, it's used as part of a marinade or added towards the end of the cook so the flavour of the spices remains robust.
It's a spice mix I'm very familiar with but I'd always just used store bought garam masala. But I was feeling a little inspired in the kitchen recently so when I'd used the last of my garam masala, I thought I'd try making my own.
Conveniently enough, we had recently been gifted a spice blender for our wedding and it was the perfect time to give it a whirl.
Many families have their own homemade garam masala recipes since it's such a staple in every Indian home kitchen.
My recipe may be one you're familiar with but you'll definitely find many variations out there. In fact, on my Reddit post, someone commented with 14 different garam masala recipes she had collated over the years!
No matter which recipe you choose to go with, the idea here is to use the best and freshest of ingredients so your garam masala is as punchy as it can be.
While you can buy a pre-made version in the stores, making your own will allow you to experiment with flavours and will give you a more robust spice mix. Try it and let me know how you go!
Looking for ways to use garam masala? Try my recipe for vegan butter chicken. All the same flavour but healthier and guilt-free.
Hope you enjoy this recipe! And if you gave it a go, let me know what you thought of it in the comments below.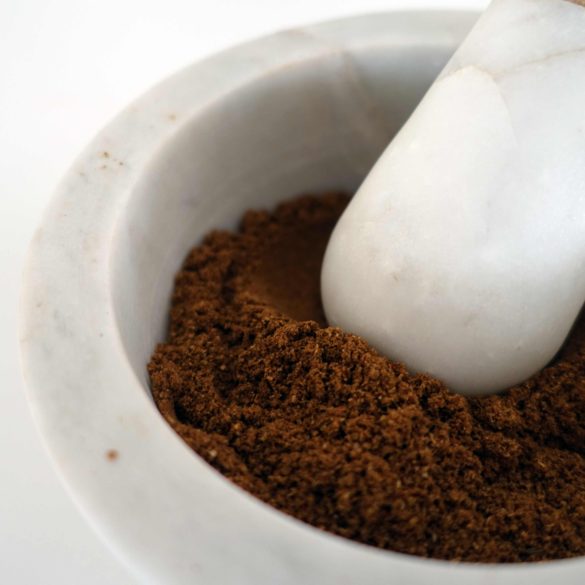 Ingredients
5 tbsp coriander seeds
3 tbsp cumin seeds
5 green cardamom
7 cloves
10 peppercorns
2" cinnamon sticks
2 bay leaves
1/2 nutmeg
1 star anise
1 tsp fennel seeds
1 dried chilli
Method
Combine spices and dry roast on low to medium heat for 5 mins.
Place roasted spices in the spice grinder or blender and grind to a fine powder.
Use towards the end of a cook or as a spice seasoning.
Make in small batches and use within a few months for maximum flavour.
Enjoy!
Notes
Use towards the end of the cook for best results.
Did you try this recipe?
Let me know if you enjoyed it! Tag me on Instagram at
@bees_bites_