Pickled red onions are great for adding a little something-something to your meals. They're deliciously tart, bring a ton of flavour to your dish and depending on what you add to your pickling, can also add a little heat.
The great thing about pickled red onions is that you can have it across a variety of cuisines. In particular, they go really well with Mexican and Indian dishes. The latter being unsurprising considering pickling likely originated in the Indus Valley Civilization in northwest India around 2400 BCE.
In India, pickles are known as achar in Hindi. A term that's also used to describe Singaporean, Malaysian and Indonesian pickles. The English term pickle comes from the Dutch word "pekel" which refers to the brine. This connection will make a lot of sense if you know about the Dutch East India Company's involvement in India.
So what to have pickled red onion with? Add them to tacos, chilli con carne or have them with rajma, chole bhature and more. The options are endless really. They can even be paired with burgers and are great at barbecues.
Serve the pickled red onion on the side and add as much as you wish to the dish. I like to add just enough so there's a little pickle with each bite. Yum! Thinking about it is making me want some right now.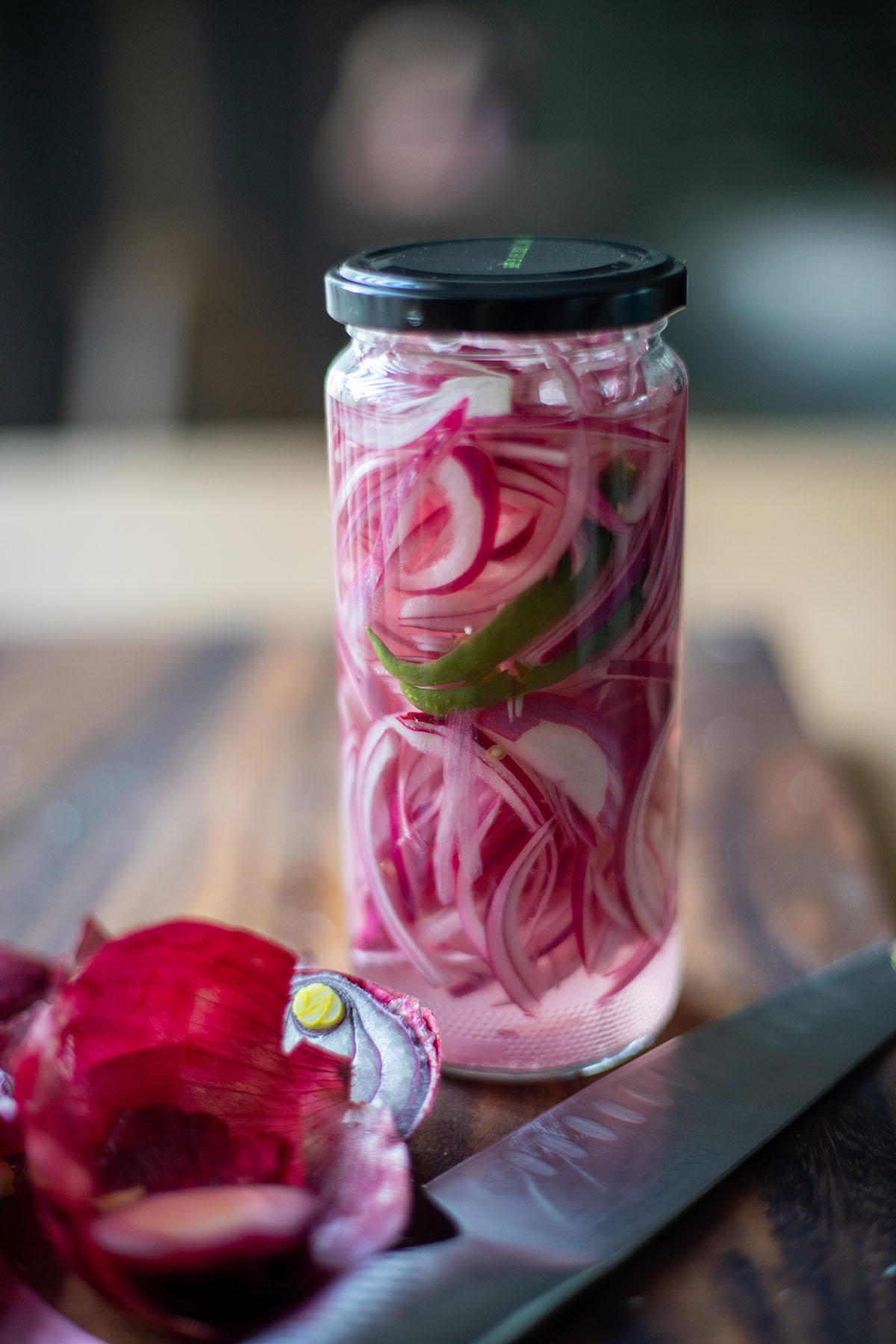 Ingredients and aromatics for the pickle
What makes my pickled red onion recipe so quick is that there's no boiling required. Everything comes together in the jar you're storing it in which means less fuss and less mess. Always a win in my books.
The recipe is super simple and you only need six ingredients that you should have in your pantry anyway. Red onion, green chillies, white vinegar, hot water, salt and sugar. Throw everything into a jar, close tight and shake it for a bit. Refrigerate for at least 30 mins to let all flavours infuse before eating and that's it!
My pickle is made the typical Indian way, with Indian green chillies that pack a lot more heat than the serrano chillies from the grocery store. Your local Indian store should stock these green chillies, otherwise you can also use habaneros or jalapeños with your pickled red onion as well.
Or leave out the chillies altogether and try some other flavourings. You could also use bay leaves, garlic cloves or peppercorn but you'll need to boil them with the vinegar first to really infuse the flavours.
Whatever the combination of ingredients, store the final result in a clear glass jar. Don't use metal. If you do, a metallic flavour will develop in your pickling overtime, which won't be nice.
I just peel the stickers off the olive jars from the store when I'm done with them and use those. They look great, especially after the liquid has taken on the colour from the onions and everything turns a beautiful shade of pink.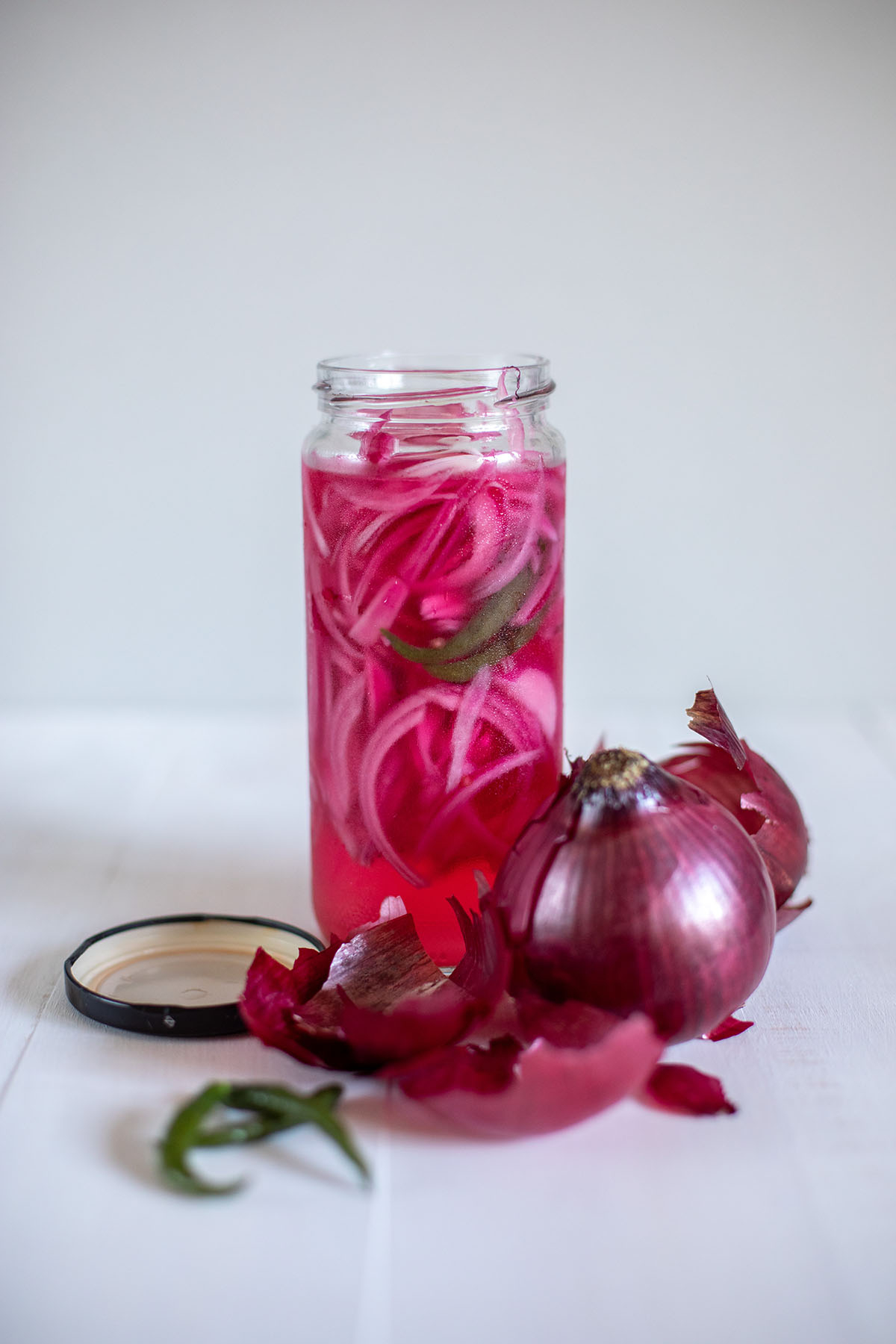 What type of vinegar to use?
I've used white vinegar in my recipe but a variety of cooking vinegars will work well too. You can also use white malt vinegar, cider vinegar or white wine vinegar.
Just keep in mind different types of vinegars have varying levels of tartness and acidity so you may need to adjust the amount of sugar and water used.
If you're not sure, just mix the vinegar, water, salt and sugar together first and taste to see if you've got the balance right before pouring it over the red onions and chillies.
The BBC Good Food recipe for example uses cider vinegar and because it isn't as acidic and tart as white vinegar, they haven't added any water.
Can you pickle red onions without sugar?
The short answer is yes, you definitely can forgo the sugar in the recipe. But I would just like to point out that sugar is not always evil and it does serve a purpose.
With pickling in particular, sugar helps with shelf life and preservation by preventing bacteria growth. But there's enough vinegar in this recipe to act as preservative. So essentially the sugar in this recipe is to balance out the tartness of the vinegar.
Basically it's absolutely fine not to use sugar but that might mean you end up with a pickle that's too tart. It's all a mater of personal preference really.
Once you've made your pickled red onions, refrigerate them and they'll be good for up to 2-3 weeks. Not that it will even last that long!
Looking for something to have the pickled red onion with? Try my red lentil, quinoa and sweet potato veggie burger.
Hope you enjoy this recipe! And if you gave it a go, let me know your thoughts in the comments below.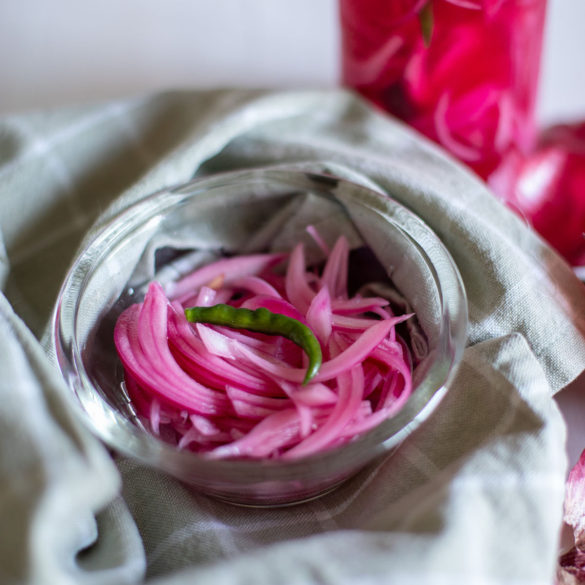 Ingredients
1 medium red onion
2 green chillies 
200ml white vinegar
100ml hot water
1 tsp salt
1 tsp sugar 
1 jar (that can hold at least 400ml)
Method
Thinly slice the red onion. You can also slice into rings if you prefer.
Add onions to the jar. Close and shake it to separate the onion slices. 
Leave the green chillies whole but cut slits lengthwise into the chillies. 
Add the chillies, vinegar, hot water, salt and sugar to the jar. 
Seal tight and shake for a minute to combine all the ingredients. 
Refrigerate for 30 minutes to let everything infuse.
Serve with your favourite dish.
Enjoy! 
Notes
1. You can also use habaneros or jalapeños instead of green chillies. 2. If you don't have white vinegar you can also use cider vinegar, white malt vinegar or white wine vinegar. Just taste to figure out level of acidity and tartness and adjust amount of water and sugar used accordingly.
Did you try this recipe?
Let me know if you enjoyed it! Tag me on Instagram at
@bees_bites_