Hummus without tahini might sound blasphemous. After all, it is tahini that maketh the hummus, does it not?
Well yes, that is true but do you know what tahini actually is? It's simply a paste made from toasted sesame seeds. That might come as a surprise when you consider how expensive store bought tahini is. I don't really know why it's so expensive to buy when it's made from a relatively inexpensive ingredient.
Even though it's easy to make, this recipe doesn't ask you to make your own tahini. Rather, it uses a shortcut to get the same flavours as you would by using store bought tahini.
Simple Hummus Without Tahini
Hummus is universally loved for a reason and rightfully so. It is creamy, delicious and versatile. I often have my hummus as a snack with some crackers or spread on toast. It's such a good way to fill yourself up when you need a snack without resorting to junk food.
It's also much simpler to make than one might think. Not having tahini might stop some people from making hummus. Hopefully, with this recipe, you won't have anything stopping you.
If you do have tahini on hand, leave out the sesame seeds and add 2 tablespoons of tahini to the food processor with the rest of the ingredients and blend till smooth.
Keep things simple by having your hummus with some crackers or, try pairing it my masala sweet potato fries. This combination is great as a healthy snack or served at parties. The spices in the masala sweet potato fries perfectly complements the hummus.
Looking for more delicious recipes? Try my red lentil, quinoa and sweet potato veggie burger. Or find more sauces and dips recipes here.
Hope you enjoy this recipe! And if you gave it a go, let me know what you thought of it in the comments below.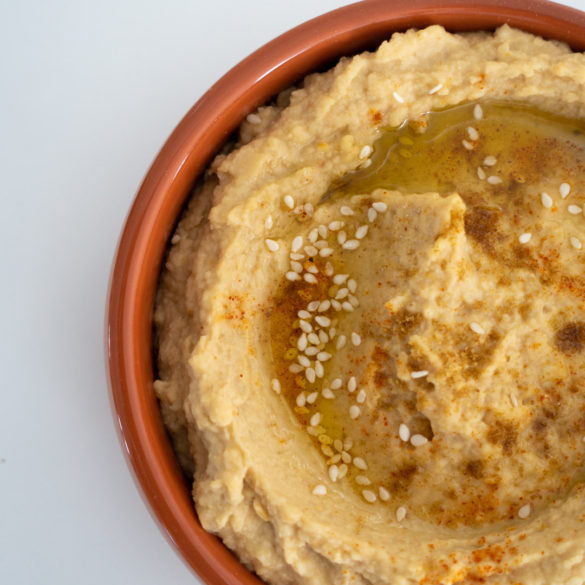 Ingredients
400g canned chickpeas
2 garlic cloves
1/4 cup sesame seeds, lightly toasted
1/4 cup canola oil
1/4 lemon juice
Salt to taste
1/4 cup water (to get desired consistency)
Method
On low heat, toast the sesame seeds until they are lightly coloured. Be careful with this step and keep stirring so you don't burn the sesame seeds. 
Once done, add the sesame seeds to a blender along with a mildly flavoured vegetable oil. Canola oil is good. 
Blend till smooth. 
Add the drained chickpeas, 2 garlic cloves, lemon juice and salt to taste. 
Blend till the ingredients combine. 
Halfway through, add up to a 1/4 cup of water to get the desired consistency. 
Check your seasoning once done.
Enjoy! 
Notes
If using dried chickpeas, soak overnight before using. If you do have tahini, skip steps 1-3. Just add 2 tablespoons of tahini along with the rest of the ingredients and blend till smooth.
Did you try this recipe?
Let me know if you enjoyed it! Tag me on Instagram at
@bees_bites_