My Indian-ish guacamole recipe doesn't actually vary too much from the traditional guacamole. You still have the key players: the avocado, red onion, tomato and coriander. The difference in mine that makes it kinda Indian, is the inclusion of red chilli powder.
Most guacamole recipes use whole chillies like jalapenos or serrano peppers. While I enjoy those flavours too, I find it doesn't quite immerse throughout the guacamole. You'll get a few chilli hits here and there but that's it.
I like using the red chilli powder as not only is it a little spicier, it mixes in and combines well with the rest of the ingredients. That means instead of bursts of chilli just here and there, you get a really well balanced, well seasoned and flavourful guacamole.
How to make Indian-ish guacamole
Because guacamole is actually so easy to make, with so few ingredients, you need to pay attention to the finer details to make this a great dish.
Pay attention to the size of your red onions and tomato when you chop them. I personally don't like big chunks of raw red onion, so I tend to cut that up a bit finer. And with the tomatoes, cut them up into small and even bits, but not so small that they turn to mush when you mix all the ingredients together. It's all about the balance of textures and flavours.
How much you mash your avocado up while mixing is totally up to you. I prefer it mostly mashed with some chunks of avocado still visible. This is the perfect texture for me. Too mashed up, and I think it'll start to resemble baby food.
Gaucamole is mostly served as an appetiser or used as a topping in chilli, burgers, nachos etc. But you know how some appetisers are so good, you don't need anything else to eat it with? This guacamole is that dish for me.
I truly don't need anything else to eat it with. But there are a few dishes I enjoy having it with. Try pairing it my also Indian-ish masala sweet potato fries. This combination is great as a healthy snack or served at parties.
Looking for more delicious recipes? Try my red lentil, quinoa and sweet potato veggie burger. Or find more sauces and dips recipes here.
Hope you enjoy this recipe! And if you gave it a go, let me know what you thought of it in the comments below.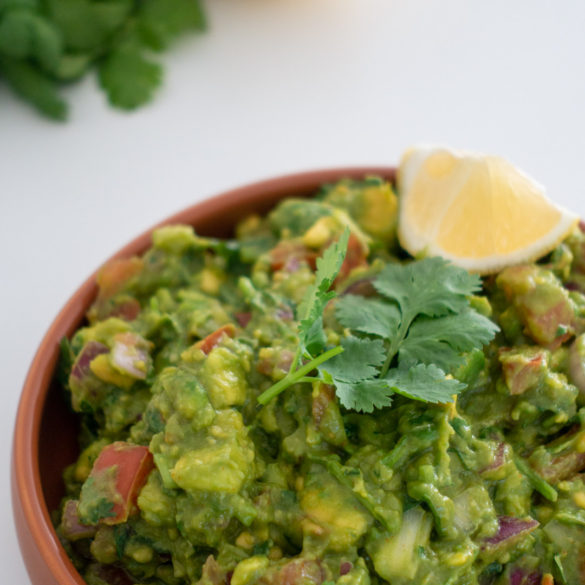 Ingredients
2 avocados
1 tomato
1/2 red onion
1/2 lemon juice
1/4 cup coriander leaves
1/2 tsp red chilli powder (less or more depending on spice preference)
Salt to taste
Method
Prep all the ingredients. Cut up the avocado into cubes and finely chop the red onion, tomato and coriander leaves. 
Mix the avocado, red onion, tomato and coriander leaves. Use the back of your spoon to mash the avocado as you go. 
How much or little you mash is up to personal preference, I like it somewhere in between. 
Next, add the lemon juice, chilli powder and salt to taste. 
Mix well, garnish with more coriander leaves and a slice of lemon. 
Enjoy! 
Notes
You can also use paprika or cayenne instead of chilli powder.
Did you try this recipe?
Let me know if you enjoyed it! Tag me on Instagram at
@bees_bites_