Lamb rogan josh is one of the most famous Indian dishes globally. It's on almost every Indian restaurant menu, particularly in America, the UK or Australia. And it's easy to see why it's such a favourite. It's a meaty, flavourful thick gravy combined with beautifully tender lamb. What's not to love?
Where is lamb rogan josh from?
Unlike many popular Indian restaurant meals, rogan josh does actually have roots in India, specifically Kashmir. The traditional version however, does differ in style quite a bit.
The special thing about Kashmiri rogan josh is that it only uses ingredients endemic to the region. That's to say, the recipe only uses what's traditionally found on the land.
Many of you might not realise this but ingredients we've come to associate with Indian cuisine such as chillies and tomatoes, are not actually from India.
Many of these ingredients were introduced to India by the Portuguese when they colonised parts of India in the 16th century.
Before chillies, it was black pepper and other spices like cloves, cardamom, turmeric, cinnamon, mustard seeds, cumin and ginger that gave Indian food it's flavour and heat.
Kashmiri rogan josh sticks to these native ingredients. It's cooked in mustard oil, uses minimal spices and doesn't use onion, garlic or tomatoes. So if there aren't any tomatoes in it then where does it get its distinctive red colour from? That comes from ratan jot, which is the root of a herb. The dried herb is soaked in water releasing a bright red colour that's then added to the gravy.
So it's a very special recipe and definitely one worth trying. But the version I'm sharing here is more what you'll find in Indian restaurants and is an easy version you can replicate at home.
Ingredients for the rogan josh
The spice list for a rogan josh is not as extensive as you might expect. You have bay leaves, cloves, cinnamon, cardamom, Kashmiri red chilli powder, cumin and coriander powder and garam masala.
In a pinch, I've made this dish without bay leaves, cloves, cinnamon and cardamom pods and it's turned out okay. So don't fear if you don't have every single one of these ingredients. But I recommend using them if you have access to them.
A common question is does rogan josh have any tomatoes in it? The answer, not necessarily. The colour of rogan josh doesn't come from tomatoes. As I've explained above, the traditional version gets its colour from ratan jot.
In the restaurant version, the colour comes from Kashmiri red chilli powder or you can use paprika as well. Both of them add warmth and colour to the dish without adding too much heat. So rogan josh is definitely not as spicy as it looks. I have used a tablespoon of tomato paste in this dish, that's to thicken the gravy but you don't have to use it if you don't want to.
Is there diary in rogan josh?
This is another frequently asked question and yes I've used Greek yoghurt to add a tang and thickness to the gravy. But again, the dish works without it.
In the traditional version, the yoghurt is used to marinate the lamb at the start. In my restaurant version, I've added it towards the end, after the lamb has stewed for a couple of hours.
If adding the yoghurt towards the end, make sure the gas is on low and the yoghurt isn't straight out of the fridge. Very cold yoghurt mixed into a very hot dish has a high chance of curdling. If the yoghurt does look a little curdled, not too worry. Just cook out for a little longer, making sure to mix it into the sauce and all should be fine.
What type of lamb to use?
You want something that will do well in a stew and will break down nicely after slow cooking for one to two hours. That's how long you'll need to cook the rogan josh for the meat to get tender and for all the flavours to meld together nicely.
Lamb shoulder is a great cut of meat for rogan josh. Lamb leg or lamb shanks will also work if you can't get lamb shoulder. Whether you leave the lamb on the bone or not is up to you. But if you do get lamb on the bone, then I recommend leaving it in. The bone imparts flavour and a good way to tell if the lamb is cooked right is to check it's falling off the bone.
What to serve with rogan josh?
Basmati rice (or any type of long grain rice) is the perfect accompaniment. Or, you can go with the classic naan or roti. That combination in itself will make a perfectly delicious and filling meal.
But to really elevate things, whip up a quick cucumber and mint raita and a pickled red onion to serve with the rogan josh.
The raita comes together in under five minutes and the cool and creamy raita will balance out the heat of the rogan josh perfectly.
The pickled red onion is just as easy to put together. It only needs half an hour to pickle before it's ready to eat and the tartness will really enhance the flavour of the rogan josh and make your mouth water.
Both recipes with the details on what yoghurt to use, what type of vinegar to use for the pickling etc are on the blog as well.
Watch how to make Lamb Rogan Josh
More from B's Bites
Craving more? Try my Masala Chai Kulfi – it's sugar, spice and everything nice. Or for something savoury, give my vegan butter chicken a go. 
Hope you enjoy! If you tried this recipe, let me know your thoughts in the comments below.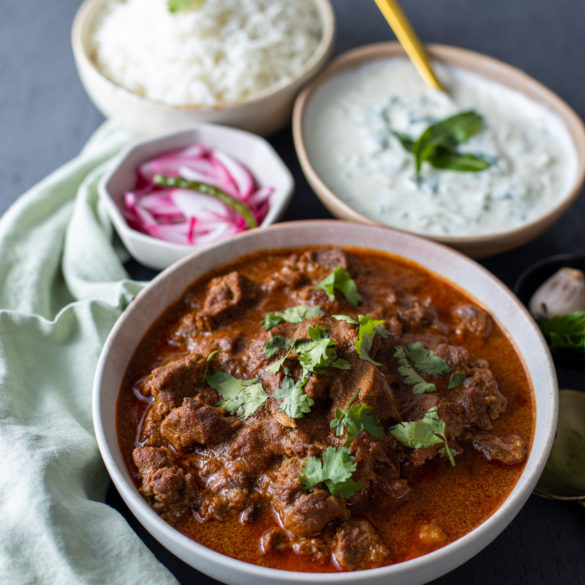 Ingredients
2 tbsp canola oil 
1 large onion, finely sliced
6 garlic cloves, crushed (or 1tbsp garlic paste)
2" ginger, grated  (or 1 tbsp ginger paste)
2 bay leaves
5 cloves
1 cinnamon stick
8 lightly crushed cardamom pods 
2 tbsp Kashmiri red chilli powder or paprika 
1 tbsp cumin powder
1 tbsp coriander powder 
 1 tsp chilli powder
1 tbsp tomato paste 
300 ml stock (or water)
1kg lamb, cut into 2-3cm pieces 
150g plain Greek yoghurt
1 tsp garam masala
Coriander garnish 
Method
Finely slice one large brown onion. 
On medium heat, add 2 tbsp of oil in a large, heavy-bottomed pot. A Dutch oven will work well. 
Add the onions and fry until soft and browned. This browning is one of the things that will give the rogan josh it's colour. 
Add the crushed garlic and grated ginger and sauté for a minute. 
Add the spices, starting with the dry spices and then the powdered spices. 
Cook for 30 seconds to toast the spices and then add 1 tbsp of tomato paste and mix it in. 
Add the lamb pieces, searing it on all sides. Mix everything together well.
Add 300 ml of stock or you can use water as well. Mix well and then cover, leaving to cook on low to medium heat for an hour or so till the lamb is tender. 
Check on the lamb after an hour. If you think it's almost tender enough, add the Greek yoghurt and quickly mix it in. Make sure the Greek yoghurt isn't too cold when you add it in or it will spilt. 
Add 1 tsp of garam masala if you have any. You can skip this step if you don't have any. 
Leave to cook uncovered for another half an hour or so. 
Once the gravy is thick enough, serve it up and garnish with coriander leaves. 
Enjoy! 
Did you try this recipe?
Let me know if you enjoyed it! Tag me on Instagram at
@bees_bites_