Mango pudding brings up memories of Sunday dim sum lunches with the family back home in Singapore. After a huge sampling of savoury dumplings and other deliciousness, it was customary to end the meal with mango pudding.
Mango pudding is thought to have originated in Hong Kong, the land of dim sum, but you'll also find variations of it in Singapore, Malaysia and Thailand.
In Singapore, there are dessert shops dedicated to Chinese desserts and mango pudding is invariably one of the most popular dishes on their menu.
Ah Chew desserts in Bugis is particularly well-known and the décor of the store matches up with the desserts they serve, traditional Chinese. It's quite a treat to have their desserts, especially refreshing after a hot day.
Now that it's summer in Australia and it's mango season here, it got me craving the puddings I used to have in Singapore.
The mango variety you find most commonly here in Australia is the Kensington Pride. It's not too fibrous and not overly sweet as well.
To be perfectly honest, if eating mangoes as is, I much prefer the intensity of flavour that the Indian Alphonso mangoes deliver. But the Kensington Pride ones do make a good base for desserts and you can adjust the sweetness to suit your own tastes.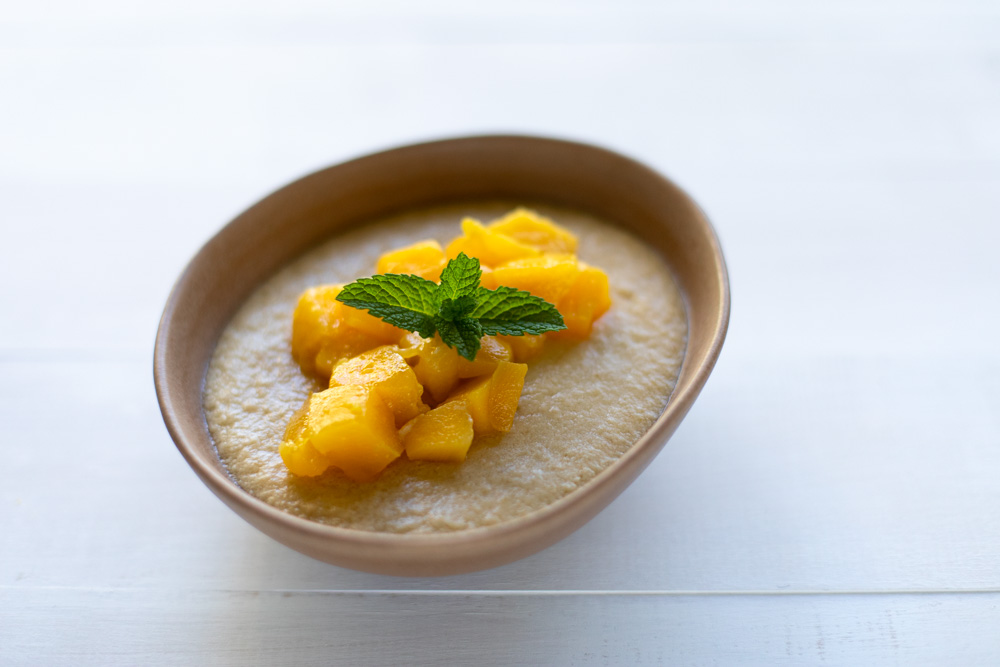 How to make mango pudding with agar-agar
It's really quite simple to make mango pudding. Most recipes will call for mango pulp, sugar and either evaporated milk or coconut milk.
There are no eggs in mango pudding unlike other puddings or custards. Instead the binding agent is gelatin or agar-agar. In this recipe, I used agar-agar but gelatin works just as well. Which one you use is entirely up to you.
There are benefits to using gelatin. One, there's no boiling required, you just need to add it to warm water to activate it. Two, it will deliver a smoother texture and consistency which can look aesthetically better.
But if you're vegetarian/vegan or want to make sure your dessert is halal then agar-agar is the better option. Agar-agar is derived from seaweed whereas gelatin comes from animal collagen. You'll also need to use less agar-agar than gelatin but you will need to boil it in order to activate it.
I use the Swallow Globe Brand which you will find in most Asian stores. Just note, if you do decide to use agar-agar for this recipe, pay attention to the colour when buying it. You'll want to get the white agar-agar otherwise you might end up with a green mango pudding!
Which milk to use?
I prefer to use coconut milk when making mango pudding as at least I can use the leftover coconut milk to make another dish. It's much harder to find a use for leftover evaporated milk unless you're planning to make other desserts.
So that's really the only reason I choose to use coconut milk over evaporated milk. Consistency wise I feel they both achieve a similar result. If you're not a fan of coconuts then by all means use the evaporated milk. But in my opinion the subtle hint of coconut really adds to the dish. What could be more tropical and refreshing than mangoes and coconuts?
Whatever combination of ingredients you choose to go with, the end result should be a rich, smooth and creamy pudding. And of course the hero ingredient here is the mango! So make sure you choose a sweet, ripe mango and one that isn't too fibrous. If you think your mango has too much fibre in it, then strain it after you've pureed it to get it extra smooth.
You can also dial up the mango hit by adding some diced mango pieces into the pudding mixture and then adding more diced pieces on top as a garnish once the pudding has set.
If you don't have access to fresh mangoes, you can also used canned mangoes. But in that case, omit the sugar as the sugar syrup the mango has been soaking in will be more than enough sweetness. In general, just have a taste of whatever mango you're using to decide how sweet you want it to be and how much sugar to add.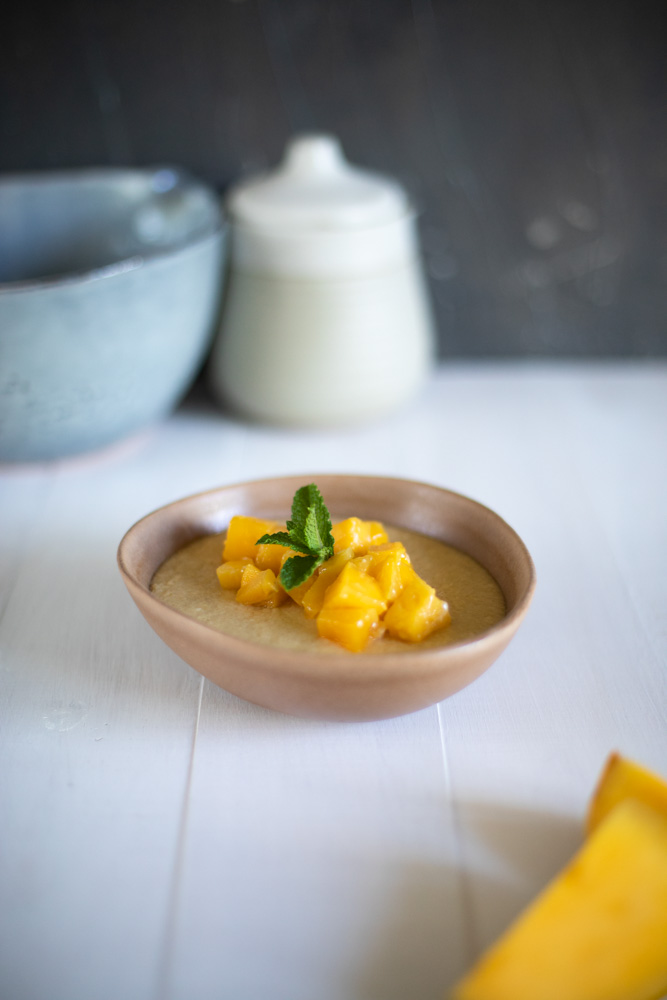 More B's Bites recipes
I hope you guys enjoy the mango pudding as much as I do! If you tried this recipe, let me know your thoughts in the comments below.
Craving more sweet treats? Try my Kaju Katli – it's the most delicious cashew fudge. Or for something a little healthier, give my Banana and Blueberry Muffins a go.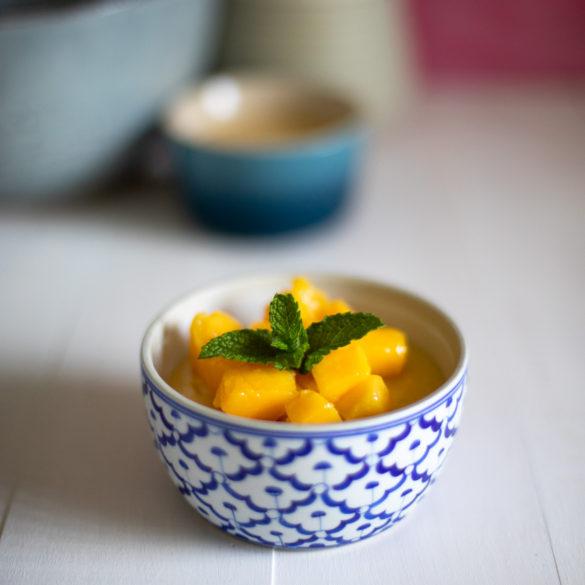 Ingredients
250ml coconut milk
1 ripe medium mango, pureed (250g)
Agar-agar (2.5g)
250ml water
1/3 cup white sugar
Coconut cream (optional)
1 ripe medium mango, diced (as garnish, optional)
Method
Dice up one mango and puree using stick blender. If you think your mango is too fibrous, strain it to get a smoother consistency. 
Make agar-agar by dissolving 2.5g of agar-agar into 250ml of water. Bring to a boil and then take off heat. 
Add sugar and dissolve into agar-agar.
Combine coconut milk, mango puree and agar-agar. Mix well, making sure to incorporate the mango well.
Pour into porcelain bowls or ramekins. Filling 3/4 of the way. Quantity will be enough for 4 ramekins that can hold 200ml each. 
Chill for at least two hours. Cover with cling wrap so smells from other food don't get into it. 
Garnish with mint and diced mango pieces. If you'd like, you can also pour a little more coconut milk over the top. 
Enjoy it cold!
Notes
1. Sugar is optional depending on personal preference. If you do use sugar, make sure to taste your mango first to see how sweet it is. Then adjust quantity of sugar used according to sweetness of the mango. If using canned mango then don't use sugar at all, the sugar syrup it sits in will be more than enough sweetness. 2. You can also use honey as an alternative sweetener. 3. You can also use evaporated milk instead of coconut milk. 4. If mango is very fibrous then strain the puree before adding it to the coconut milk.
Did you try this recipe?
Let me know if you enjoyed it! Tag me on Instagram at
@bees_bites_