These banana and blueberry muffins are perfect for those of us who aren't morning people. There are two groups of people in this world. One group wakes up hours before they have to and use all that extra time to meditate, exercise, prepare a beautiful breakfast and in general have a leisurely start to the morning.
Then there's the second group. The ones waking up 20 minutes after they should have, rushing to the bathroom, debating if they have time for a shower before they make a quick coffee and speed out of the house.
I fall firmly in the latter group. Because of this, breakfast is my most skipped meal of the day.
Unless my husband is making me something (i.e pouring out cereal) or I have no place to be, it's very unlikely I'll be having the most important meal of the day (not that I believe it is but that's a post for another day).
Which is why these banana and blueberry muffins are such a lifesaver!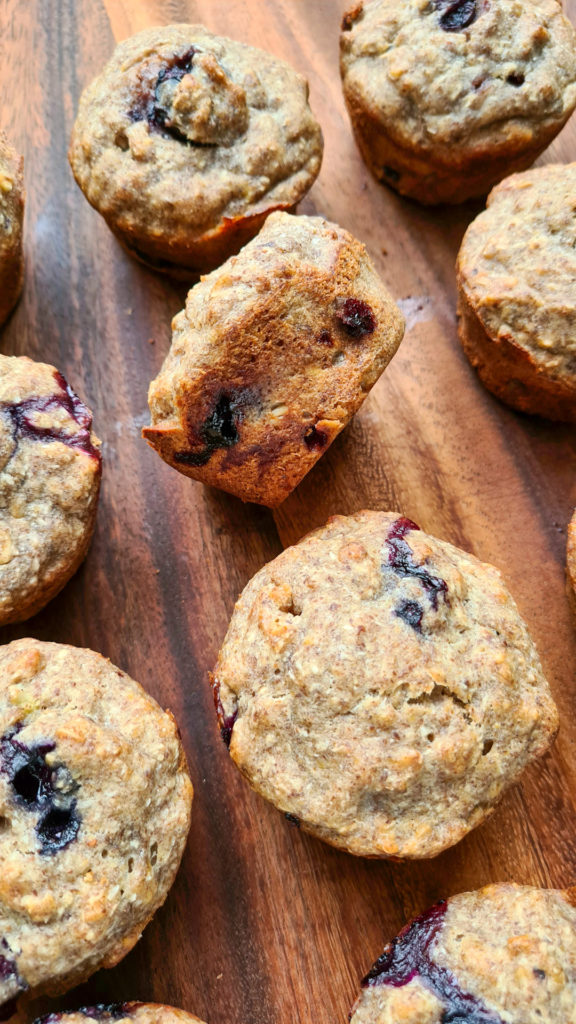 While I'm not a big baker, spending some time on the weekend to make these muffins are a great way for those of us non-morning people to still have some breakfast before we get on with our day.
It's really quick to make, all you have to do is assemble the ingredients and mix before leaving it in the oven to cook for approximately 25 minutes.
And once the muffins are ready, you have a great grab and go breakfast option for at least the next few days.
Even if you're not a breakfast person at all, these work wonderfully as a healthy snack to get you through the mid-day slump.
Healthy Breakfast Banana and Blueberry Muffins
The best thing about these muffins are that they're a great grab and go option in the mornings without any mess or fuss.
The second best thing about them is how much good stuff is packed into a bite sized package. Together with bananas and blueberries (both powerhouses in the fruit world), you've also got oats, flaxseed, coconut, yoghurt and honey.
But combine these into a muffin and your brain is tricked into thinking it's more naughty than nice.
It's a health snack masquerading as a naughty treat – making them perfect for kids too.
If you have a little more time in the mornings, try brewing a cup of my masala chai to go with the muffins. It's the perfect blend of spices to wake you up and start the day right.
Hope you enjoy! If you gave this recipe a go, let me know your thoughts in the comments below.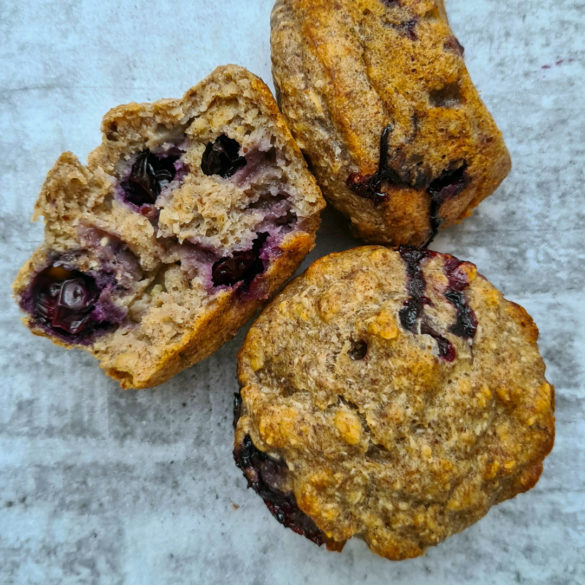 Ingredients
3 ripe bananas
1 cup blueberries 
1/2 cup desiccated coconut 
1/2 cup baking oats 
1 1/2 cups plain white flour
1/2 cup ground flaxseed 
1 tsp salt 
1 tsp cinnamon powder 
1 1/2 tsp baking powder 
1 tsp vanilla 
2 eggs 
1/2 cup coconut yoghurt (greek yoghurt works fine too)
1/4 cup honey 
1/4 cup canola/vegetable oil
Method
Preheat oven to 180°C (360°F). 
Mash the ripe bananas or use a food processor to get a pulpy consistency. 
Mix all the dry ingredients together. 
Add all the wet ingredients, including the banana and gently mix.
Don't over mix, you want to just combine everything and keep the blueberries whole. 
Line your muffin tray with cups or parchment paper if using. Otherwise grease each cup well with some butter. 
Evenly fill the cups. Top with more blueberries if desired. 
Bake for 25 minutes or until a skewer comes out clean. 
Enjoy! 
Notes
Note: This is a healthy recipe so much of the sweetness comes from the fruit. You can add another 1/4 cup of honey if you prefer a sweeter muffin.
Did you try this recipe?
Let me know if you enjoyed it! Tag me on Instagram at
@bees_bites_