Kimchi fried rice is a go-to when I'm looking for a quick and easy dinner recipe.
Things to like about this recipe:
It's got rice in it. I love rice and will happily eat just rice and soy sauce for weeks at a time.
Kimchi is really good for you. It's fermented so it's got all that 'good' bacteria (probiotics) that's great for your gut. If you have a sensitive stomach like mine, you'll want to load up on anything that's good for your gut.
It's packed full of flavour. Kimchi is really flavourful on it's own so you can keep it simple and create a delicious meal with just a few ingredients. 
What exactly is kimchi?
If you're not sure what kimchi is, it's a fermented vegetable dish, usually made with cabbage, onion and carrot, and various spices. It has a tangy taste to it, which comes from the fermentation process, and is typically spicy but you can get milder versions. 
Do note, most kimchi isn't vegan and contains fish sauce and shrimp paste. But the good news for vegans is that it's easy enough to find vegan versions. Just be sure to look at the ingredients on the bottle before you purchase.
The kimchi I use in this recipe is a vegan version and in my opinion, it's just as tasty.
You can keep this kimchi fried rice recipe really simple as I have done or you can up the ante with just a few ingredients. 
For vegans, add tofu, mushrooms or green leafy vegetables. For non-vegans, jazz the dish up with ham, eggs or even fried anchovies. 
Whatever you choose to add, you're almost guaranteed an awesome meal. Because anything with kimchi in it is always a good meal in my books. 
Hope you enjoy this recipe. If you gave it a go, let me know your thoughts in the comments below!
Looking for more easy dinner recipes? Try my mee goreng recipe for a hawker style dish you can recreate at home.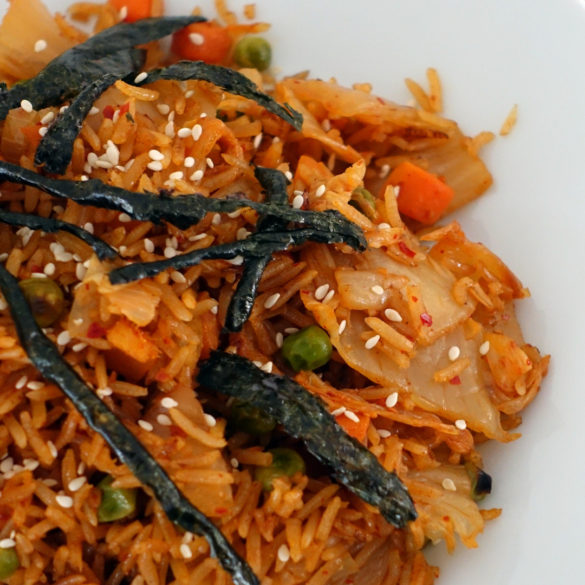 Ingredients
2 cups pre-cooked rice
400g Kimchi
6 tsp Kimchi 'juice' (the leftover juice at the bottom of the jar)
250g frozen peas and carrots
2 tbsp oil
3 garlic cloves
2" ginger
1 brown onion
2 tbsp soy sauce
1 tbsp sesame oil
Seaweed to garnish
Sesame seeds to garnish
Method
Cook the rice in a microwave and set aside.
Finely dice the garlic, ginger and onion.
Over a medium flame, add the oil and sautée the garlic, ginger and onion till the onions turn translucent. Roughly 5 mins.
Add the kimchi and frozen veggies and mix well.
Add the rice in and mix well.
Add the kimchi juice, soy sauce and sesame oil.
Mix to combine all the flavours.
Garnish with the seaweed and sesame seeds.
Enjoy!
Notes
If you're looking for a non-vegan version, between step 3 and 4, add your ham/chicken/beef/seafood and sauté for a couple of minutes before continuing with the rest of the steps.
Did you try this recipe?
Let me know if you enjoyed it! Tag me on Instagram at
@bees_bites_