Sweet potato fries are nice, but do you know what's better? Masala sweet potato fries! (Or chips, depending on where you're from).  
Like a true Indian, I believe most things in life taste better when it's covered in masala. Masala equals flavour. It is why my spice rack is always filled to the brim and takes up considerable space in my pantry. 
Masala, as you guys might know, is basically a spice mixture. Most famous of these being garam masala. Although, of course, you can dream up as many spice mixture combinations as you'd like. 
The make up of my masala mix usually includes a combination of: cumin, coriander powder, tumeric, chilli powder, and my personal favourite, mango powder (also known as amchoor). Amchoor is a great way to add tang to your dishes. Because it is quite a strong flavour, it isn't appropriate to add to every dish, but when you do, it truly does wonders. 
If you haven't tried amchoor, I strongly recommend you head to your nearest Indian store on your next grocery run and pick some of this up. Guaranteed, you'll be finding ways to incorporate mango powder in as many dishes as you can. I really love sour flavours, so it's no wonder that it's one of my favourites. 
Masala Sweet Potato Fries
In this recipe, the sweet potato gets the masala treatment and is all the better for it. While I love this recipe because sweet potato is a great carrier for my masala mix, it is also a much healthier alternative to the usual deep fried potatoes.
Sweet potato tastes delicious baked and it's a healthier, less mess and less fuss option as well. I prefer to cut my sweet potato fries a bit thicker as they shrink down after baking them. And the thicker they are, the harder it is to burn them. 
In my recipe, I recommend grilling the sweet potato right at the end for five minutes to really crisp it up. I do this as the oven at my place isn't great. Your oven might be better than mine, so see how they go after 30 minutes of being in the oven before deciding to set it to grill at the end. 
Enjoy these masala sweet potato fries with Indian-ish guacamole, no-tahini hummus or a white bean dip. You can find the recipes for all three dips on my blog. It makes for the perfect snack and is great to serve at parties as well. 
Looking for more delicious recipes? Try my red lentil, quinoa and sweet potato veggie burger. It pairs especially well with the masala sweet potato fries. 
Hope you enjoy this recipe! And if you gave it a go, let me know what you thought of it in the comments below.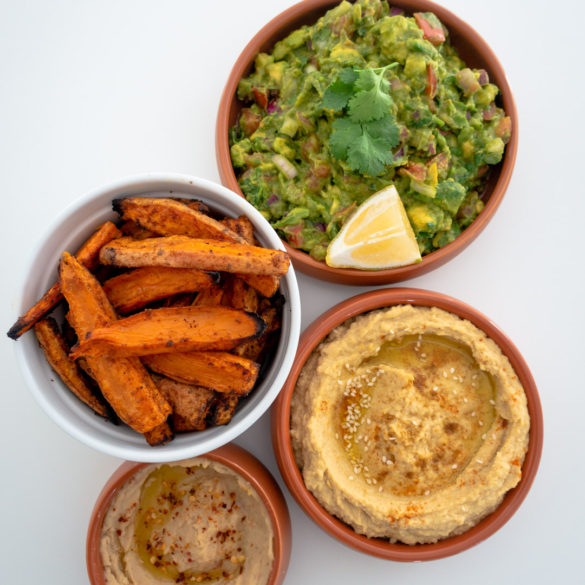 Ingredients
4 small to medium sized sweet potatoes
3 tsp cumin powder
2 tsp coriander powder
1 tsp mango powder (amchoor)
1/2 tsp chilli powder (less or omit if you don't want it spicy)
Oil to coat
Salt to taste
Method
Pre-heat oven to 200°C (400°F).
Brush the skin of the sweet potato to remove any dirt. If you prefer, you can peel the sweet potatoes as well. 
Cut sweet potato into approximately 1" strips.
Coat with oil and spices, making sure all the wedges are coated well. 
Lay evenly on baking tray. Use two trays if need be. 
Bake for 30 minutes (time will vary depending on your oven). Remove halfway to flip the sweet potato fries. 
Put the oven on the grill setting for the last 5 minutes to really crisp up the fries (skip this step if you don't want it too crunchy).
Enjoy!
Notes
Bake times will vary according to your oven so do keep an eye on your sweet potato fries as they bake.
Did you try this recipe?
Let me know if you enjoyed it! Tag me on Instagram at
@bees_bites_