Mee goreng is a Singaporean and Malaysian hawker favourite and a comfort food for me! Here's my vegan spin on the popular mee goreng recipe also known as mee goreng mamak.
Mee goreng is what my husband and I make when we're feeling lazy yet want something good to eat. The cook time is minimal really and prep work pretty much consists of pulling the ingredients out of the fridge.
What's life without some variation?
This is of course a homemade version so it won't be an exact replica of the mee goreng recipe used in a hawker centre but it comes pretty close.
I've made a few variations like using sweet potato instead of regular white potatoes. Sweet potato is less carb-y than regular potato and has more vitamins and fiber as well. I really love my carbs so using sweet potato is my way of feeling less guilty about how much potato I eat. Other variations include the vegan sambal I've used and swapping out the chicken/egg/prawn typically used in mee goreng for fried beancurd instead.
One unintentional variation was skipping out on the green leafy veg. Silly me forgot to buy some for this recipe but please do add this to yours if you'd like. I would have added bok choy if I had remembered to buy some.
Mee goreng is very forgiving though and for all the variations made, it still tasted pretty darn good and authentic to me. That's the beauty of this recipe, you have the ability to make this dish your own. What you should do is think of this recipe as a base vehicle and then add to it as you see fit.
Looking for more quick and easy dinner recipes? Try my simple yet flavourful kimchi fried rice.
Hope you enjoy this recipe! And if you gave it a go, let me know what you thought of it in the comments below.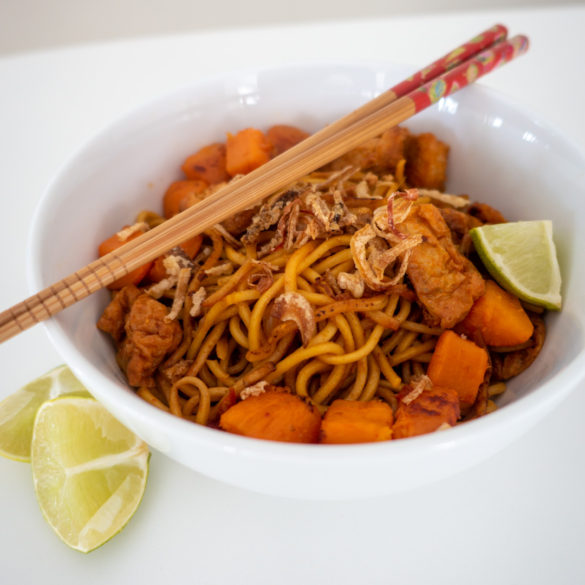 Ingredients
2 tbsp oil
1 onion
3 garlic cloves
1 tomato
1 sweet potato
50g fried beancurd/tofu puffs (about 10 pieces)
1 bunch spinach/bok choy
1 handful bean sprouts
1.5 tbsp vegan sambal (less/more depending on spice preference)
3 tbsp tomato sauce/ketchup
3 tbsp soy sauce
750g -1kg yellow noodles
Fried shallot garnish
Juice of 1 lime
Method
Boil water in the kettle. Peel and dice potatoes into 2cm cubes. Add potatoes to the boiled water and cook till you can pierce it easily with a fork. Drain once done and set aside.
While the potatoes are cooking, slice onions and garlic. Cut the tomato up into 2cm pieces.
Stir fry onions and garlic in 2 tbsp oil. Cook till onions start to brown.
Add tomatoes and stir fry till they get soft.
Add the potatoes and tofu puffs, stir fry for a minute.
Add the sauces - soy sauce, tomato sauce and sambal.
Add the bean sprouts and green leafy veg. Cook till veggies shrink down and bean sprouts turn slightly translucent.
Add the noodles. Mix well to combine flavours.
Squeeze the lime over. Sprinkle with fried shallots.
Enjoy!
Notes
If you want to make this recipe vegan then make sure to get a sambal that doesn't contain any shrimp paste.
Did you try this recipe?
Let me know if you enjoyed it! Tag me on Instagram at
@bees_bites_