Last month, for Sandip's birthday we hired a campervan for a roadtrip up to Kalbarri, six hours north of Perth.
After coming back from our extended honeymoon, our plan had been to spend more time exploring Australia.
While on our travels, we'd met so many people who had seen so much more of Australia then we had. Even after living in Western Australia for almost 10 years now, I still hadn't even ventured up north beyond Lancelin, which is only two hours out from Perth. Most trips in WA have been down south and even then, I haven't made it past Denmark.
So when Sandip happened to get a few days off, we decided to go for a roadtrip and finally explore more of WA!
Not that we had a choice, but still we were lucky to travel at all, even within our own state.
For a new experience, we decided to hire a campervan. Neither of us had done this before but we were keen to try.
Booking our campervan
The lack of interstate or international travellers didn't seem to have dampened demand. By the time we got around to booking a campervan, the only option was a Britz 2 berth hi-top, which are quite small, don't come with any toilets or showers but still come equipped with a little kitchenette.
While not the flashiest, it was the perfect size for first-timers to start with. Driving it was relatively easy and it didn't feel too different to driving a hatchback or sedan, even in windy and rainy conditions.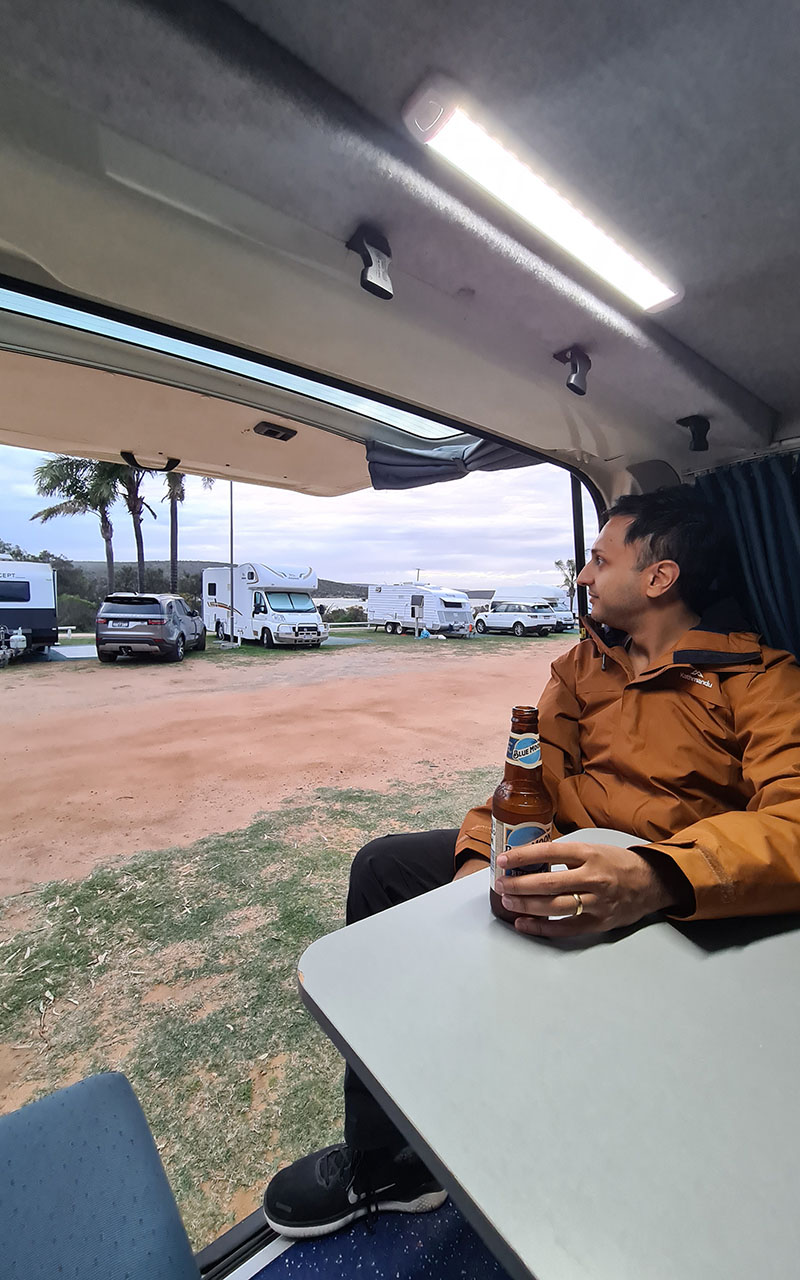 Booking our spots at the caravan parks
After booking the campervan, the next step was to book in our overnight spots at the caravan parks. For land conservation purposes, in most places in Australia, it's actually illegal to park at any random spot for the night.
This is why even in little towns around Australia, you'll find multiple caravan parks. Even with all the options, you should try to book in advance. I booked two weeks in advance and there were many places that didn't have any spots available.
To ensuite or not to ensuite
For our first night, we were able to book a spot that came with an ensuite. What this means is we park next to our own little private toilet and shower cabin. This was the only night we were able to book an ensuite. The rest of the trip, we had to use the common bathrooms.
Sharing the common bathroom wasn't so bad. It was always clean, stocked with toilet paper, the water pressure was excellent and there was never a line.
The problem was the storm. It stormed two out of the four days we were travelling so that made it hard to walk to and from the toilets without getting drenched.
We had to find moments where the rain was light enough to make a dash for it. Plus, if you need to go at night, it's kind of annoying too. So we definitely recommend getting an ensuite spot if possible.
Powered vs unpowered campervan sites
Another option you'll see when booking is for powered or unpowered sites. Powered site means you'll be able to connect to electricity at the caravan park and run everything in your campervan such as lights, toaster, kettle etc without draining the battery. Unpowered site means you won't be able to connect to their electricity.
In theory, the campervan battery should provide you with enough power to last you a night but as it was our first time, I didn't really want to put that to the test so I only booked the powered sites for us.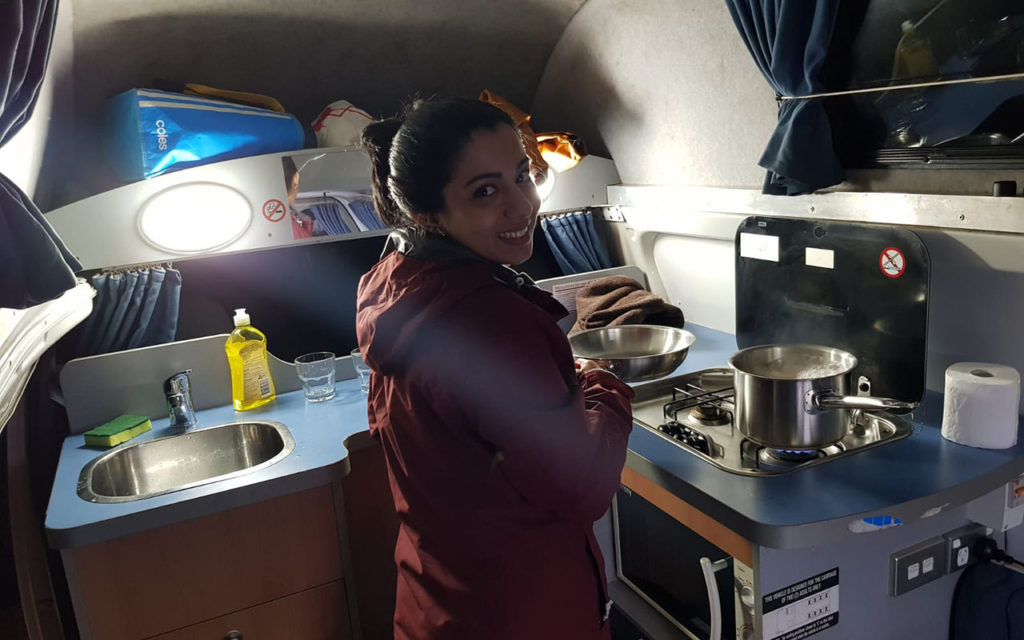 What we ate
We had decided we wanted the full campervan experience which meant not much eating out and most meals in the campervan.
Still, I didn't want to cook three hour meals, so I made sure everything was easy to put together and took plenty of shortcuts.
We drove a lot on the first day so I wanted something easy to eat on the go. The night before, I made cold cut wraps with salad and wrapped them up individually in aluminium foil. This way we could easily snack on them even while driving.
Easy, no fuss recipe ideas
For breakfasts, we had crumpets with peanut butter and little chocolate chip bread rolls. We didn't want to have to cook our lunches since we'd be on the go so we got frozen pies that we heated up in the microwave.
It was only the dinners that we really cooked. On the first night, we had black bean burgers (you can also go with lentil and quinoa burgers if you prefer) .
The black bean patties, I pre-made at home before the trip so we just had to heat it up either in the microwave or on the pan. All that was left was assembly with burger buns and store bought guacamole and salsa.
For Sandip's birthday dinner, we made pesto pasta with olives, sun-dried tomatoes and pancetta. The pesto was from a jar, making it very easy to put together.
On the third night, we bought fish and chips which were some of the best I'd had in a while. And on the last night we made teriyaki tofu with packet teriyaki sauce and packet rice. So nothing fancy but it was still delicious and filling enough to keep us happy.
And of course I brought snacks like chips, trail mix, muesli bars etc to munch on along the way.
We also tried to support a few local cafes by getting coffees. But be prepared to pay a pretty penny for it. $7 coffee anyone?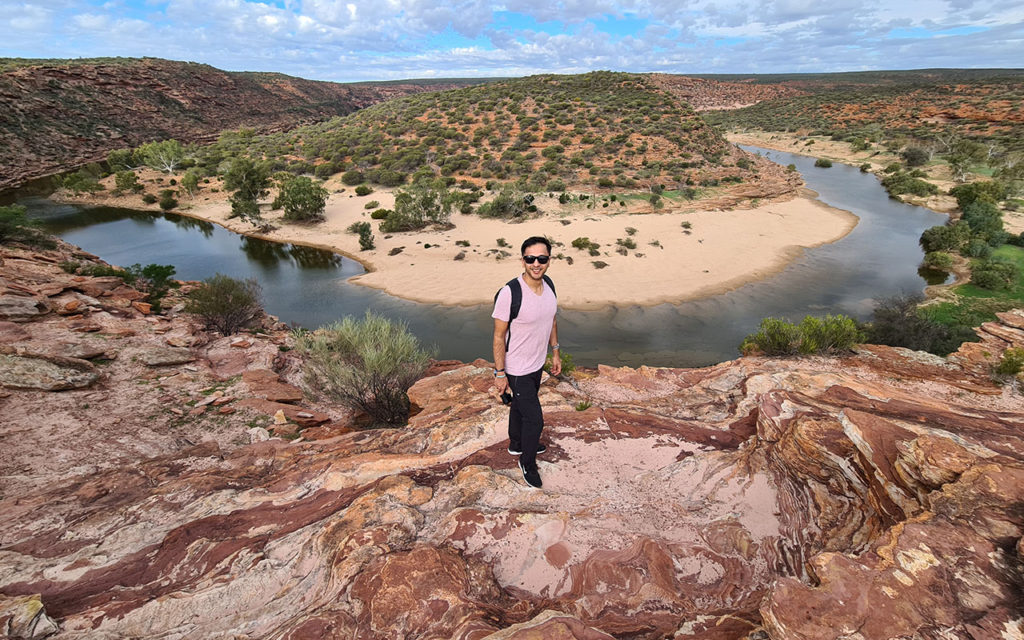 What to pack for your road trip
Besides food, you might be wondering what else to pack. The campervan actually comes pretty well-equipped. They even provide you with pillows and sheets, although I recommend bringing your own if you can. We did and it felt so much more comfortable.
It does get cold, especially at night, so pack warm sleeping clothes. Bring water-proof jackets as well if you have them, you never know when it might rain. It stormed while we were travelling. Thankfully we had our waterproof jackets so we were still able to do stuff without being miserable and wet. Bring along a pair of slippers as well as comfy walking/hiking shoes. The slippers are good for when you're just hanging around the caravan park and to go to the toilets.
Most kitchen items are provided, including utensils, pots, pans cups and plates. You only need to bring some oil, dish washing liquid, bin bags and cleaning wipes.
Other essentials are your toiletries, a torch, sunscreen (it gets very hot up north), a Swiss army knife and a small first aid kit.
Costs of hiring a campervan
While initially it might seem like campervans are the cheaper option, fuel costs are significantly higher. The cost of hiring the campervan for four nights was $400. Parking spots ranged between $40-$50/night. Fuel was an average of $50/day. Then there's also food costs which will vary depending on if you cook or eat out.
So overall I'd say travelling via campervan is comparable to going on a roadtrip with a car and staying in hotel accommodation. It's all about the experience I guess.
We had lots of fun and to give you guys a full tour of the campervan, we filmed a MTV Cribs 'Welcome to my Campervan' video.
We are clearly not vloggers! The video is both ridiculous and hilarious so I hope you enjoy us embarrassing ourselves!
Are you planning to head on a campervan trip? Leave me a comment and let me know!