You know you've got a great veggie burger recipe when it wins the tick of approval from your burger loving husband. The things he loves about it are simple ????
#1: It's high in protein.
#2: It doesn't fall apart like most veggie burgers when you eat it.
#3: It's got a touch of Indian flavours from the spices used.
Now that we eat plant based majority of the time, I'm always thinking of new, easy high protein recipes we can incorporate into our meal rotation. I came up with this recipe while trying to think of a way I could use quinoa that didn't involve it being used in a salad.
I have to admit, I don't really love salads because I have a thing about eating veggies 'raw'. I'm much happier having my veggies cooked and hidden in my meals. So I'm still a child basically when it comes to eating my veggies ????
Red Lentil, Quinoa and Sweet Potato Veggie Burger
Most people on plant based diets get their protein from legumes, seeds and grains. This recipe is no different.
As you guys know, lentils and quinoa are two high protein ingredients. And all the ingredients, including sweet potato, are a great source of the vitamins and minerals that we need.
I find most vegan burgers are a bit bland but this lentil, quinoa and sweet potato burger uses Indian spices to pack in the flavour. The consistency of the veggie patties is great too. The sweet potato and lentils break down nicely and holds all the ingredients together well. It's not crumbly and won't fall apart as you eat it.
For an extra protein and flavour hit, I also made a cannellini bean dip/puree to go with the burgers. Cannellini or white kidney beans are another excellent source of protein and fibre. Plus it's also rich in iron, vitamin B6 and several other nutrients.
Side bonus is that the dip is super easy to make. All it takes is blending all the ingredients together. The end result is a rich and creamy puree that reminds me of hummus. Get the recipe for the cannellini bean dip here.
All in all this is a really easy, tasty recipe and versatile too. You can use the patties in veggie burgers as I have.  Or, you can shape them into smaller patties or kebabs and use them in wraps or salad bowls.
The cannellini bean dip/puree can also be used as a salad dressing, just add more olive oil to make it runnier.
Looking for more quick and easy recipes? Try my yummy vegan friendly mee goreng recipe.
Hope you enjoy this recipe! And if you gave it a go, let me know what you thought of it in the comments below.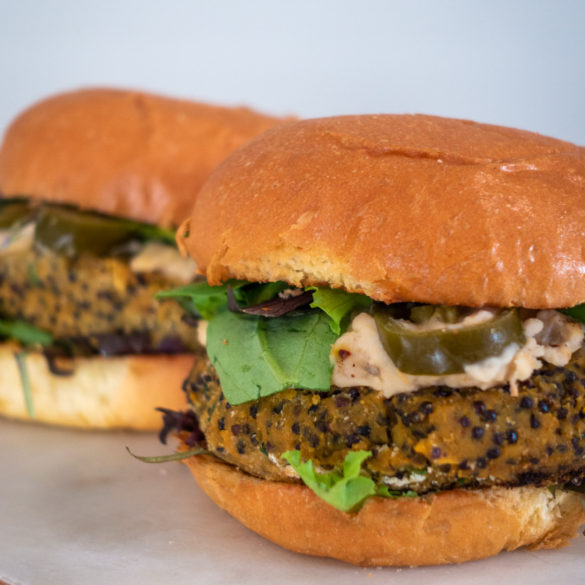 Ingredients
2 tbsp oil
1 cup red lentils 
1 cup black quinoa 
3 small sweet potatoes
2 tsp cumin
2 tsp cayenne
1 tsp tumeric
2 cups vegetable stock
1/2 red onion
1/4 cup coriander leaves
Salt to taste
1/3 cup chickpea flour (for coating patties) 
Method
Peel and dice sweet potato into 1" cubes.
Add lentils, quinoa, sweet potato, vegetable stock and spices to pressure cooker.
Pressure cook on manual mode for 10 mins.
Once done, mash the mixture. Then add red onions and coriander leaves. Mix well. 
Once the patties have cooled, wet your hand and shape into patties.
Lightly coat in chickpea flour, making sure to dust off the excess.  
Heat up a pan and add 2 tbsp of oil. Lightly pan fry the patties on both sides.
Serve with toasted burgers buns, salad leaves and cannellini bean dip. 
Enjoy! 
Notes
- Red or yellow lentils are best for this recipe as they break down really well and will mix in nicely with the rest of the ingredients. - You can use any quinoa. I've just used black quinoa because I like the colour contrast with the sweet potatoes and red lentils. - Regular potatoes will work fine with this dish too. I just prefer to use sweet potatoes as it's a complex carb and has more fibre and vitamin A than regular potatoes. - Plain flour will do as well if you don't have chickpea flour to coat the patties in.
Did you try this recipe?
Let me know if you enjoyed it! Tag me on Instagram at
@bees_bites_