When I first realised I was lactose intolerant, one of the things that came to mind was "Is there a good vegan masala chai recipe or will I have to give up chai altogether?"
My love affair with chai started with my mum who makes excellent masala chai. When I lived at home, our afternoon routine was to have a cup of tea and watch an episode of Wheel of Fortune on TV. Now that she's mostly by herself at tea time, for convenience's sake she just uses a tea bag or makes an instant coffee. Masala chai has become one of the things she makes as a treat especially for me when I'm back home.
Perhaps because of this, brewing tea and the smell of the spices evokes memories of home and warms the soul. But because I'm the only one who drinks tea in our household, brewing a whole pot just for myself seems like too much effort. So it's become more of a weekly indulgence. 
Which milk to use for vegan masala chai?
So after the lactose intolerance diagnosis, I decided there was no way I could give up masala chai. The only thing to do was to come up with a vegan masala chai recipe that would resemble my mum's.
I experimented with soy and almond milk and found the latter complimented the spices and tea the best. Soy milk added too much of it's own flavour whereas almond milk for me was subtle enough and didn't compete with the flavours of the tea and spices.
I've heard cashew milk works well too but have yet to try it. So feel free to experiment with different milk types to see what works best for you. 
So without further ado, here's my recipe for vegan masala chai using loose tea leaves from Dilmah. This version gets the closest to my mum's.
I hope it warms your soul as much as it does mine. If you gave this recipe a go, let me know your thoughts in the comments below.
Looking for a tea time snack to go with your chai? Try my take on the vada pav – a popular Indian street food.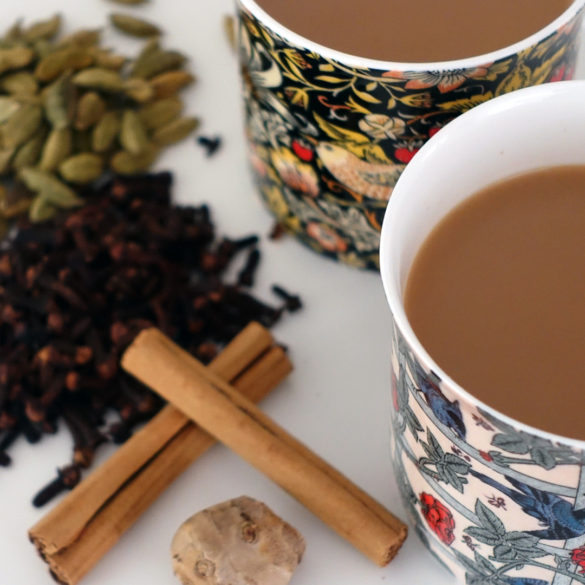 Ingredients
3 cardamoms
3 cloves
2cm ginger
1" cinnamon
2 tsp tea leaves
2 cups water
3/4 cup almond milk
Method
Pound the spices in a mortar and pestle to release the flavours.
Put the flame on medium heat. Add 2 tsp of tea leaves to 2 cups of water.
Add the spices to the tea and bring to a boil.
Add the almond milk. Lower the heat and allow to simmer for a couple of minutes.
Pour it out in your favourite cups and enjoy!
Notes
You can add other spices as you wish. Some alternatives are cinnamon and nutmeg.
Did you try this recipe?
Let me know if you enjoyed it! Tag me on Instagram at
@bees_bites_