This vada pav recipe with a Chinese twist feels like a representation of myself, my culture and the food I love to eat on a plate. 
I'm what you would call a fusion culture kid. I was born and raised in Singapore, as were my parents, but my grandparents were from Sindh, Pakistan.
Post-partition, they moved to India and then Singapore to make their fortune and raise their children there. Like all NRIs though, they made sure my parents didn't lose touch with their Sindhi culture. They spoke in Sindhi, regularly cooked Sindhi food and were involved in the small but thriving Sindhi community in Singapore. 
But neither did my grandparents shy away from adopting the Singaporean culture either which is a mix of Chinese, Indian and Malay influences. In fact, all my grandparents were able to speak English, Sindhi, Hindi and Malay with relative fluency. And my grandmas were excellent cooks who made Singaporean dishes just as well as they made Sindhi dishes.
By the time my sisters and I came along, my parents were as much Singaporean as they were Sindhi. So just like they did, I grew up eating sai bhaji alongside my chicken rice and enjoying Sindhi kadhi as much as dim sum.
Adding to that, I moved to Australia when I was 20 and have spent much of my adult life here. Inevitably, I have adopted the Australian way of life and a bit of their taste buds too. (I still add chilli to everything though, I don't think that will ever change!)
Vada Bao recipe
So it's really no surprise then that my food preferences are a bit of a fusion too. Comfort food for me means mee goreng as well as Sindhi biryani. And if I'm sick, I'm equally nourished by a bowl of congee as I am by a bowl of khichdi. 
Now that you know a little bit more about my varied food diet growing up, it's pretty easy to see how this recipe came about.
A vada pav is an amazing Indian street snack which consists of a fried potato fritter paired with green chutney in a soft, lightly toasted bread bun. A bao is an equally soft, steamed bun that works well as a base for sweet and savoury fillings and is also commonly eaten as a snack food.
I grew up eating both as tea time snacks and craving both one day, I decided to combine the two recipes to create the vada bao! Seeing as they're both bread based dishes filled with savoury goodness, it was almost guaranteed the combination would work.
And I'm glad to say it very much did. It absolutely tastes as good as it looks and you'll be majorly missing out by not trying this yourself.  
I'm pretty proud of this creation and I'm happy to say it tasted as good as it looked.
Have a go at this recipe and let me know what you think! If you're a fusion culture kid with your own fusion recipes, share them in the comments below.
Looking for more snack recipes? Try another one of my fusion dishes – Indian-ish nachos. Perfect for a party or as an afternoon snack.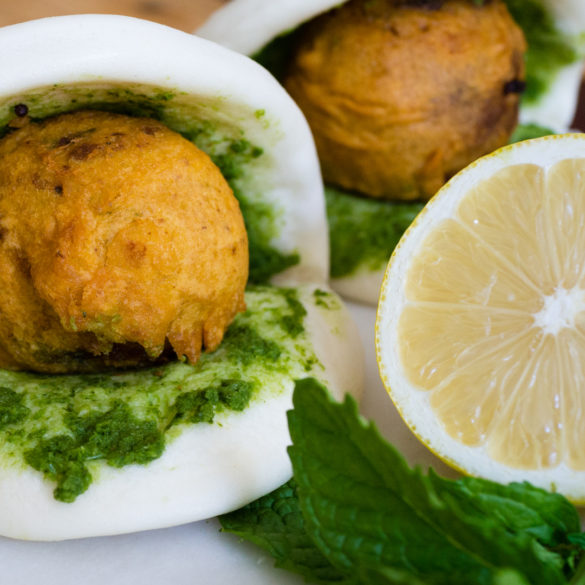 Ingredients
For the Vada (potato patty):
6 medium sized potatoes
1 stalk of curry leaves (approx 6 curry leaves)
1 tsp mustard seeds
½ tsp turmeric powder
½ tsp chilli powder
½ tsp garam masala
1 tbsp green chutney
½ cup coriander
Salt to taste
For the Batter:
2 cups gram flour
½ tsp turmeric
½ tsp red chilli powder
1 cup water
Salt to taste
Method
Boil the potatoes until cooked and tender. Peel and mash them.
Heat oil in a pan. Add mustard seeds.
Add curry leaves when mustard seeds pop and sputter.
Add mixture to the mashed potatoes.
Add spices, coriander leaves, green chutney and salt.
Mix well and roll into medium sized balls. Keep aside.
Make the batter by mixing all the ingredients. The batter should be smooth and thick enough to coat the vadas. Don't add too much water.
Heat oil in a wok on high heat.
Dip the vadas in the batter and coat evenly.
Gently drop it in the wok and fry till golden brown.
Apply the green chutney on both sides of the bao.
Pop vada in the middle and enjoy!
Notes
Recipe makes about 10 vadas. One vada to a bao.
Did you try this recipe?
Let me know if you enjoyed it! Tag me on Instagram at
@bees_bites_