Most of you have heard of sticky date pudding but let me introduce you to sticky date cookies!
I don't know about you but all this time at home has left me with cravings for sweet and naughty foods. I don't usually have much of a sweet tooth so I think these cravings were really a way to treat myself and keep morale up. 
In these circumstances, if some cookies will lift your spirits then it's very much deserved.  
Initially I was just going to make some good old fashioned chocolate chip cookies. But my local Coles had been stocking up on Medjool dates and I'd been chomping on them everyday as snacks.
So when I saw the dates in the fridge while getting the cookie batter ready, I knew I had to add them in.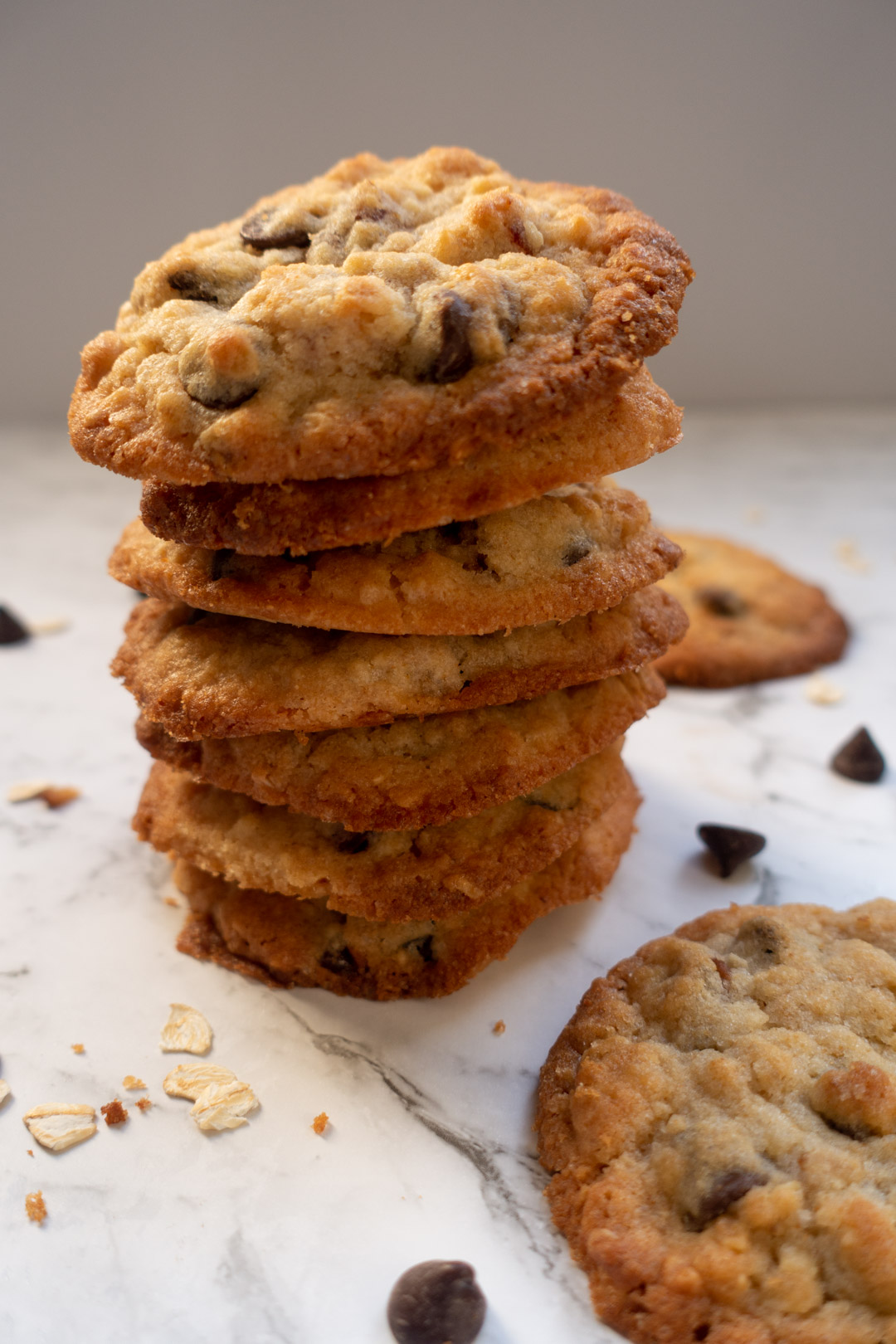 The significance of dates
Dates are known as one of the oldest fruits in the world and have been a staple in the Middle East and the Indus Valley for thousands of years.
In fact, there is archaeological evidence of date cultivation in Arabia from the 6th millennium BCE! Countries in the Middle East, North Africa and Pakistan are now the largest producers of dates in the world.
Dates are high in fructose (the natural sugar found in fruit) so they are naturally very sweet and have a subtle caramel-like taste. Which is precisely why they work so perfectly in desserts!
And while we don't tend to associate sweet foods with health and nutrition, dates are surprisingly good for you. 
Dates are high in fibre, nutrients and disease fighting antioxidants. Fibre in particular is thought to slow digestion and prevent blood sugar levels from spiking too high after eating. 
That's why Muslims around the world traditionally consume dates to break fasts during the holy month of Ramadan. 
But be warned! Despite all the good stuff, they are still fairly high in calories so consume in moderation.  
You could just eat dates as a snack (as I usually do). But if you can, try some popular Middle Eastern desserts like Ranginak and stuffed dates. 
It's also good to note – not all dates are the same. There are hundreds of varieties grown throughout the world but one of the most popular are medjool dates.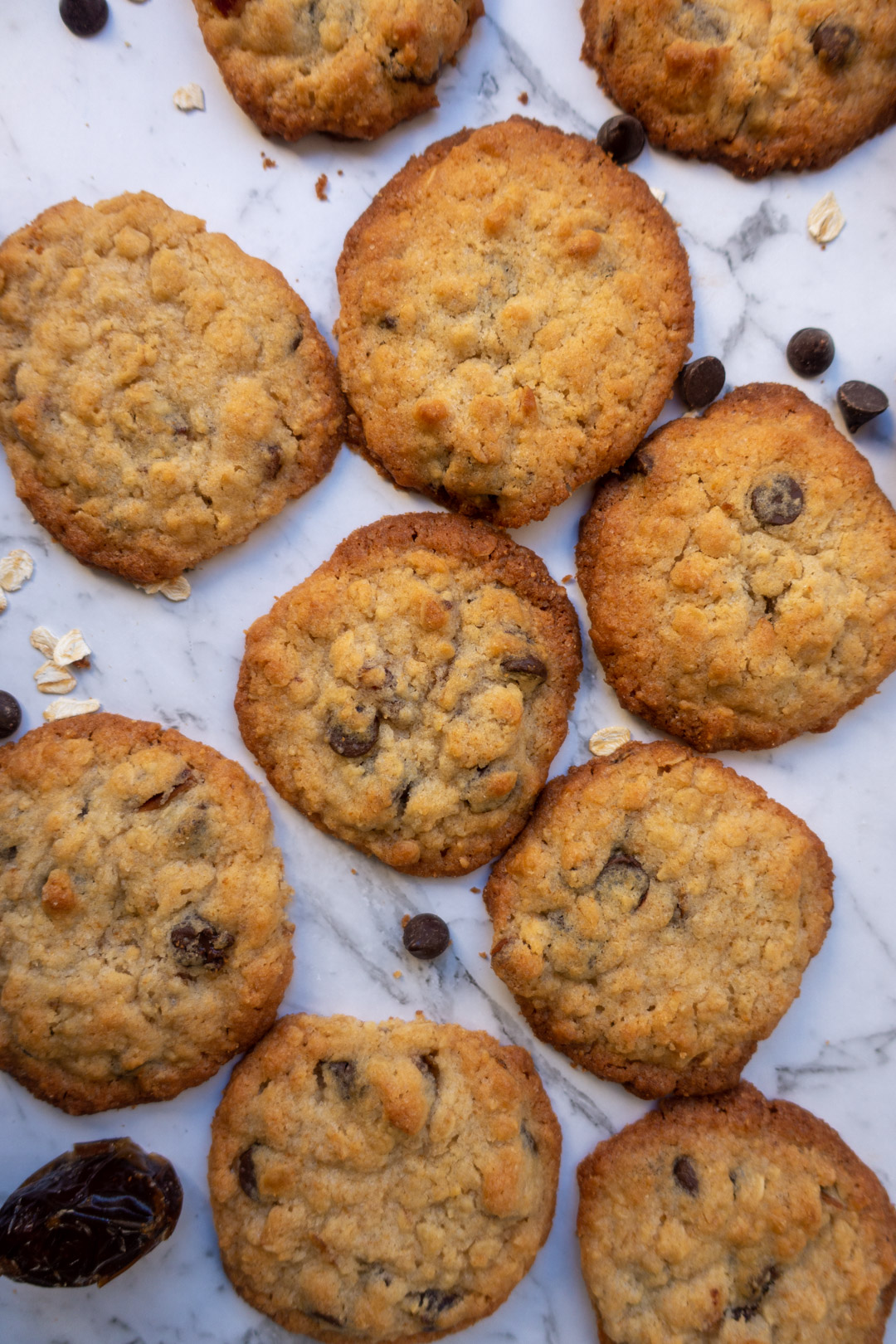 The secret to chewy sticky date cookies
Don't complicate it, don't over mix it and don't overcook it. My recipe was adapted from Cafe Delites recipe for chocolate chip cookies and she was right to say the key is to keep it simple. 
If you're using a stand mixer, beat on medium speed when combining the egg and sugars together. Keep your stand mixer on low the rest of the time and just gently combine everything. 
The oats are optional. I added them to make it healthier but it works fine without them too. Just reduce the butter to 1/2 cup and use less chocolate chips and dates. 
The next part is important, don't over bake the cookies! How long you leave them in the oven will determine if you get soft and chewy cookies or rock hard ones. 
The rule is to bake them for 10 to 12 minutes. The exact time will depend on your oven so keep a close eye out from the 10 minute mark.
The middle of the cookie should be pale and puffed up and the edges golden and crisp. That's when they're good to go. 
Don't worry if the cookies seem too soft when you take them out. They will harden up as they cool which is why you need to take them out at the right time. 
Go ahead, treat yourself
If you too have been craving sweet treats, go ahead, make these cookies. They are absolutely divine! I wouldn't blame you if you end up reaching for seconds or thirds. I certainly did. 
Craving more sweet treats? Try my Masala Chai Kulfi – it's sugar, spice and everything nice. Or for a healthier sweet treat, give my Banana and Blueberry Muffins a go. 
Hope you enjoy! If you tried this recipe, let me know your thoughts in the comments below.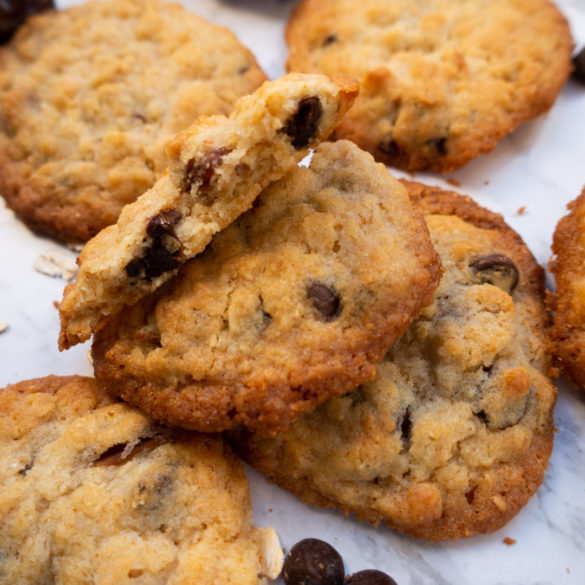 Ingredients
3/4 cup butter 
3/4 cup brown sugar
1/4 cup white sugar 
2 tbsp honey 
2 tsp vanilla extract 
1 egg 
1 1/2 cups all purpose flour 
1 cup rolled oats 
3/4 teaspoon baking powder 
1 tsp salt 
1/2 cup chocolate chips (divided) 
1/3 cup medjool dates
Method
Preheat oven to 180°C (360°F). 
Microwave the butter for about 30 seconds to soften it. It should be just melting. 
On medium speed, beat the butter with the brown and white sugars until creamy and pale in colour. 
Add the honey, egg and vanilla extract and on low speed, lightly beat until just mixed through. 
Add the oats, flour, baking powder and salt. Mix on low speed until combined. 
Using a spatula, fold in 3/4 of the chocolate chips and all the dates. Try to get it evenly mixed through. 
Line your tray with baking paper and lay out evenly sized cookie dough balls. You should have 18 to 20 balls. Space them out as they will expand.  
Top the cookies with the balance of the chocolate chips. 
Bake for 10 - 12 minutes. Watch for browned edges and a pale and puffed up middle. 
Remove from the oven and allow to cool. Don't worry if they seem too soft, they will harden as they cool.
Enjoy! 
Notes
Don't over bake the cookies! The rule is to bake them for 10 to 12 minutes. The exact time will depend on your oven so keep a close eye out from the 10 minute mark. The middle of the cookie should be pale and puffed up and the edges golden and crisp. That's when they're good to go. 
Did you try this recipe?
Let me know if you enjoyed it! Tag me on Instagram at
@bees_bites_