You're going to love this potato and leek risoni for the simple reason that it's incredibly easy to make. Who doesn't love an easy meal and a cooking hack? Especially for those long days when the thought of slaving away in the kitchen is too much to bear.
I have to give credit to my mum for this recipe idea. On days when she wasn't up for cooking much, she would boil pasta, grab a can of soup, water it down with some stock (or even just water) and voila! We had a tasty pasta dinner. I honestly enjoyed these meals. We didn't have pasta very often growing up. So even though it was an easy meal for my mum, it felt like a treat to me.
Like many of you at the moment, I'm trying to think of creative ways to make use of the canned and dried food I have in my pantry. Truth be told, this is when my mum's frugal tips are coming in handy. I might not have realised, but those frugal ways have really stayed with me.
Pantry meal hacks
So it was looking at the soup cans in my pantry that I remembered her recipe and came up with potato and leek risoni. Potato and leek soup is what I have when it's chilly outside and I just want something warm and comforting. And I felt risoni was the perfect pasta to use with this dish.
Risoni is most commonly used in soup based dishes like minestrone. But it also works well cooked risotto style. I wanted this to be a little on the drier side so I went with the risotto style of cooking risoni.
The beauty of this recipe is you can use whatever pasta you have on hand. Plus, now that you've learnt about the cooking hack of using soups as a pasta sauce, the world is your oyster. Feel free to go crazy with the many soup + pasta combinations that are out there.
If you're looking for more pantry meals, check out my recipe for butternut pumpkin pasta and chickpea and sweet potato curry.
Hope you enjoy this recipe! And if you gave it a go, let me know what you thought of it in the comments below.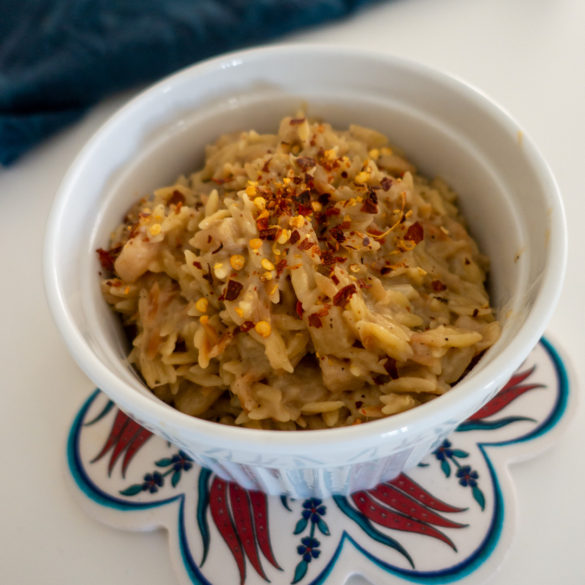 Ingredients
3 garlic cloves
1 can Campbell's potato and leek soup (505g)
200g risoni
1 cup vegetable stock
Dried thyme (or whatever herb you have on hand, parsley will work well too)
Salt to taste
Pepper to taste
Method
Pour a can of soup in a pot. Add 1 cup of vegetable stock and bring to a boil.
Slice the garlic cloves. Sautee till it starts to brown.
Add the risoni and mix well. Let the risoni get a little toasty.  
Add the potato and leek stock mixture ladle by ladle to risoni till it's cooked.
Mix well, season with salt, pepper and dried thyme.
Garnish with some chilli flakes. Enjoy!
Notes
Feel free to swap for whatever pasta you have on hand.
Did you try this recipe?
Let me know if you enjoyed it! Tag me on Instagram at
@bees_bites_