Japanese curry is the dish to make when you're looking for something warm and comforting yet simple to put together.
The first time I had Japanese curry was funnily enough while on a camping trip in Western Australia. Exhausted after a long day of hiking, I was looking forward to a good meal and was relatively unimpressed when I realised it was going to consist of potatoes, carrots, water and some chocolate-ly brown roux cubes.
So you can say I was more than pleasantly surprised when my first bite was an explosion of flavour. It was so hearty, so warm and filling that I fell in love with the dish immediately.
Japanese curry vs. Indian curry
But what is Japanese curry and does it have anything to do with Indian curry? Well, the short answer is no.
Like most dishes called curry in the world, Japanese curry actually comes from the British and has nothing to do with Indian food at all.
Kare raisu, as it is known in Japan, is actually considered a Western dish by the Japanese. And it is prepared very much like one. It consists of a European roux base and classic Western stew ingredients like meat, potato and carrots.
Legend has it that a young Japanese boy was introduced to it by British naval officers who would make the dish on ships. He loved it so much, that he went back to Japan and told everyone about it.
While the British naval links are unconfirmed, it was the Japanese navy that popularised the dish as an inexpensive and hearty meal. Japanese curry was thought to be a good way of adding nutrients to military men's diets as they had just been binging on plain rice which was considered a luxury item at the time.
If you're interested in learning more about the history of Japanese curry, I recommend reading Sita Bhaumik's article on the Diaspora Co. website. It's a great article that dives a little deeper into curry complexities. She's also uniquely well-placed to talk about the topic, being of both Japanese and Bengali heritage.
Which brand of Japanese curry roux cubes is the best?
My favourite brand for the Japanese curry blocks is the S&B Golden Curry. They have a few different heat choices – including mild, medium and hot.
I always go for the hot but even then, I wouldn't really call it spicy. It's really more of a warmth that you get as opposed to a 'my tongue is on fire' kind of heat.
Another brand I've heard is good but haven't tried myself is House Foods. Either way, you should have no issues finding the Japanese curry roux cubes in your local Asian store.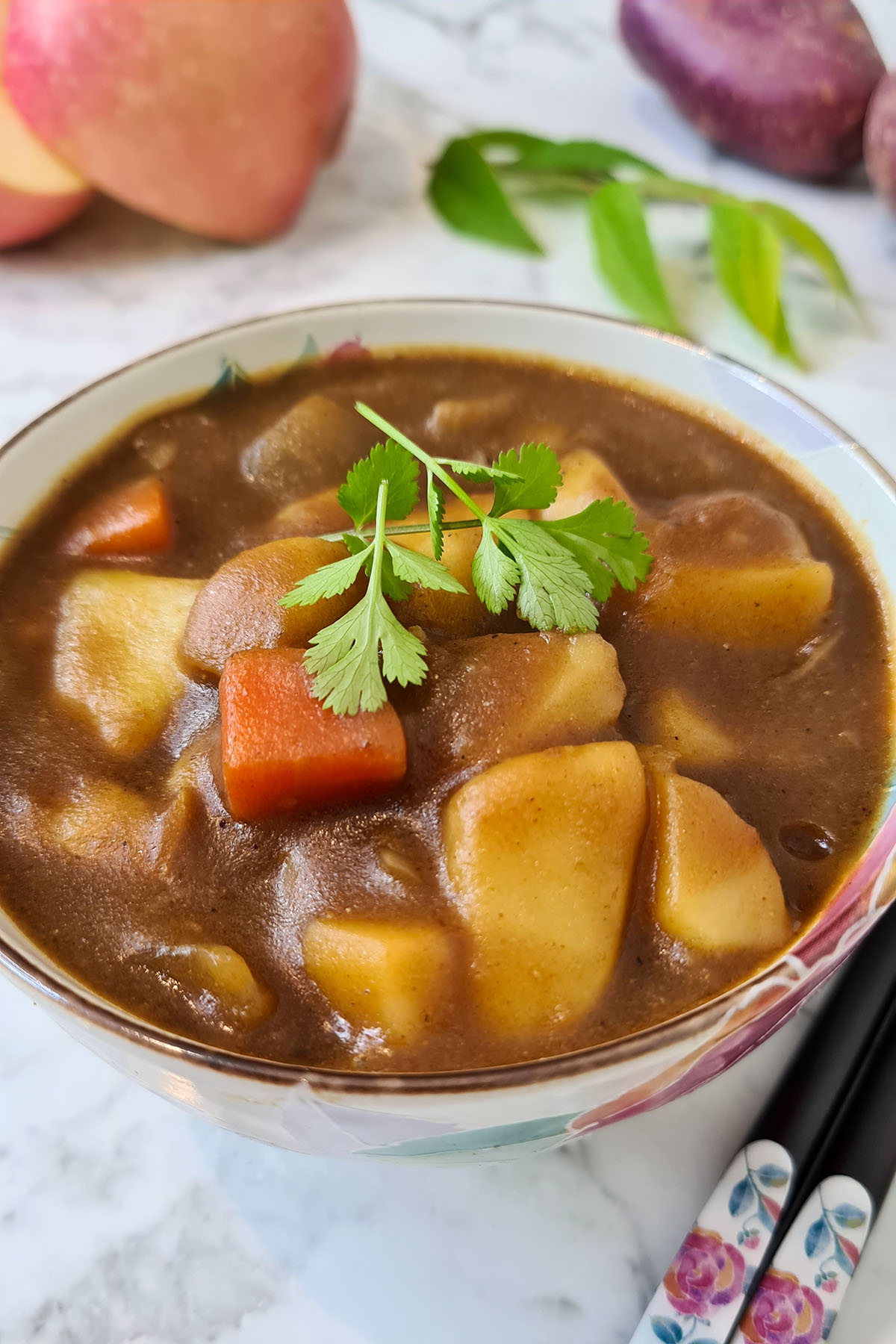 Why is Japanese curry sweet?
Those of you who've had Japanese curry know there's a hint of sweetness that comes through in the dish.
The secret and somewhat unexpected ingredient is actually apple! It sounds like a strange combination but it really works well.
I used Fuji apple, which is a Japanese variety, but only because that was what my local Asian store had in stock.
By no means should you go out of your way to source Fuji apples, any variety that's in season will do.
Some recipes say to use the whole apple but that makes the dish way too sweet for my liking. I find about a tablespoon of grated apple is all you need but of course use as much as your heart desires.
Just be sure to grate the apple before you add it in so it melts away into the sauce.
Vegetarian Kare raisu
I've made a vegetarian version of this recipe, keeping it simple and traditional with potatoes and carrots. I always serve it with a bowl of rice as well. It's the perfect vehicle to soak up the rich and thick curry sauce.
You can add different types of protein if you'd like including chicken, lamb, beef, prawns or tofu. Obviously if you're using meat, then you'll need to increase the cook time to allow the meat to tenderise.
I also like the idea of making Japanese curry udon noodles or tonkatsu. Two recipes I plan to try out very soon.
By the way, if you're wondering if you can make the Japanese curry roux cubes at home then the answer is yes, you definitely can.
For me, half the joy of this recipe comes in how easy it is to make while still packing so much flavour but go ahead and make it from scratch if you're feeling like a Masterchef.
In fact, Masterchef Adam Liaw has a great recipe for homemade Japanese curry roux on his website. And he goes through the steps and a little bit of its history in his YouTube video as well.
Adam is well versed in Japanese cuisine so although I haven't tried his recipe, I would definitely trust his version.
I hope you guys enjoy this recipe! If you gave it a go, let me know your thoughts in the comments below.
Looking for more hearty meals? Try my recipe for Mediterranean Pasta with Eggplant and Sun-dried Tomatoes.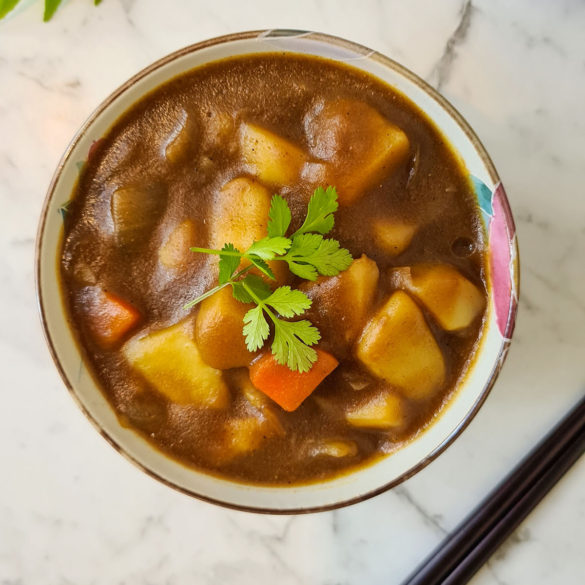 Ingredients
1 tbsp canola oil 
1 medium brown onion
3 medium potatoes
1 medium carrot 
Half a S&B Japanese curry roux block 
3.5 cups water 
1 tbsp grated apple 
Method
Peel the potatoes and dice them into 2cm cubes. Soak them in water while you prep the rest of the ingredients. This will allow the potatoes to cook a little quicker later on. 
Dice the onion and carrot into 2cm pieces.
On medium flame, add oil to a Dutch oven or a large deep pot.
Sautee the onion for a minute, then add carrots and potatoes sautéing for a another couple of minutes. If using meat, add meat to the pan after the onions, brown it and then add your carrots and potatoes. 
Add the 3.5 cups of water (you can use stock as well) and bring to a boil. 
Lower flame, cover the pot and simmer till potatoes and carrots are tender. Approx. 15 mins. Longer if you're using meat.
Break up the roux cubes (four of them or half a block) into the pot, making sure to stir and mix through till fully combined.
Grate about a tablespoon of apple and mix that into curry as well. This will add a touch of sweetness to the curry. 
Leave to simmer for another 5 minutes, making sure to stir every now and then so curry doesn't stick to the bottom of the pot. 
Garnish with coriander if you'd like. Serve with rice and enjoy! 
Notes
1. You can add meat if you'd like. I recommend using chicken or beef. Instructions as to when to add meat in steps above. 2. The apple is optional. It adds the distinct sweetness that Japanese curries are known for but the dish works without it as well. I used Fuji apple but any apple will work fine. 3. I get the hot S&B Japanese curry but I find it to be very mild in spiciness. It's available in medium and mild as well.
Did you try this recipe?
Let me know if you enjoyed it! Tag me on Instagram at
@bees_bites_