These Indian nachos are a great vegetarian alternative to your traditional meat and bean nachos. In this version, we've used spiced crunchy chickpeas for our protein, topped with a refreshing Indian salsa as well as spicy and tangy chutneys.
This recipe didn't start out as an alternative to nachos. It was actually an attempt to replicate an Indian chaat which contains many of the same elements. Paapdi chat is a spicy, tangy snack made with fried flour wafers. It's topped with chickpeas, an Indian salsa known as kachumber, yoghurt, a spicy green chutney and a tangy tamarind chutney.
Looking at the ingredients I had most readily available to me, it was clear that meshing together the ingredients for nachos and paapdi chaat was the thing to do. And thus was born the Indian-ish nachos.
The Making of Indian Nachos
We've kept key nacho elements in this recipe, including: tortilla chips, guacamole, coriander and melted cheese.
But we've swapped the beans for spiced roasted chickpeas and instead of pico de gallo, we've got the Indian version – kachumber. Because there're so many similarities between Mexican and Indian cuisine, it's no surprise that the ingredients for pico de gallo and kachumber are basically the same.
The chutneys
It adds a fresh element to the dish that balances out the spiciness of the green chutney and the tang of the tamarind chutney. The chutneys play a crucial role to the dish, adding complexity and colour to what could otherwise be a very beige and bland dish.
I used a store bought tamarind chutney, which some people might think is a cop out. But honestly, I've made tamarind chutney from scratch and it's not worth the time and effort. Not many store bought chutneys taste as good as homemade but I'd say tamarind chutney is an exception. Store bought tastes just as good and it's honestly more practical.
There are no excuses for not making your own green chutney though as it's so quick and easy. Simply get your blender out, throw in your ingredients and that's it! You've got your flavour punch for the nachos all ready to go.
I also decided to swap out sour cream for coconut yoghurt but you can of course stick to sour cream. Either option works perfectly. I also decided to keep guacamole in the dish as it quite honestly is one of my favourite things to eat. Grab my recipe for my Indian-ish guacamole here.
These Indian nachos are great to make for when you have guests over or as an afternoon snack. You could even have it as a meal by bulking it up with beans and meat. The options are endless but one thing is certain, they won't last long.
Looking for more snack recipes? Try my masala sweet potato fries. Perfect for a party or as an afternoon snack.
Hope you enjoy this recipe! And if you gave it a go, let me know what you thought of it in the comments below.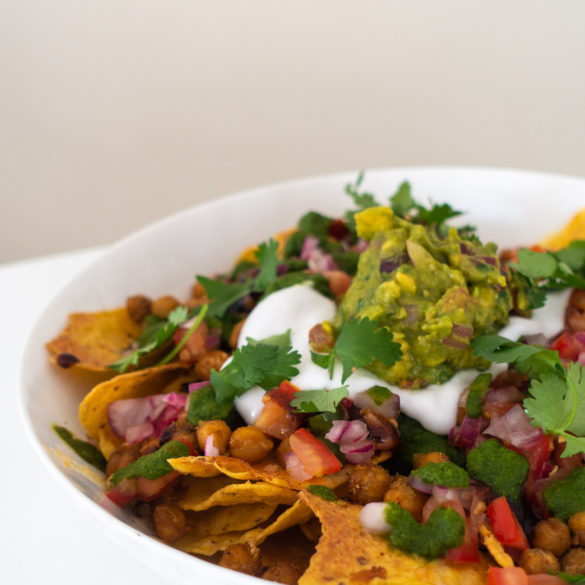 Ingredients
1 packet of tortilla chips (170g)
1 can chickpeas (400g)
3 tbsp olive oil
1 tsp cumin pwd
1 tsp coriander pwd
1/2 tsp chilli
1/2 tsp mango pwd
2 tbsp green chutney
2 tbsp of tamarind/imli chutney
2 tbsp coconut yoghurt/sour cream
1 tbsp of guacamole (optional)
1/3 cup of cheese
Coriander leaves for garnish 
Salt to taste
Indian salsa/Kachumber
1 tomato
1 green chilli
1/2 red onion
1/2 lemon juice
Salt to taste
Method
Preheat oven to 200°C (400°F). 
Drain chickpeas onto a foiled baking tray and use a paper towel to wipe off as much moisture. 
Add about 3 tablespoons of oil and the cumin powder, coriander powder, mango powder, chilli powder and salt. Toss well and coat all the little chickpeas with the masala. 
Roast the chickpeas for 10 to 15 minutes. The chickpeas will be roasted on the outside but still soft and fluffy in the middle. Roast for longer, up to 30 minutes, if you want it really crunchy. 
While the chickpeas cook, make your Indian salsa. Finely chop the tomato, red onion and chilli and mix with the lemon juice and salt. 
You can also make your own guacamole and green chutney. I have recipes for these on the blog. 
Once the chickpeas are done, start assembling the nachos. 
Spread the tortilla chips out in an oven safe bowl and top with a third of the chickpeas and half of the Indian salsa. 
Top it with the cheese and pop it in the oven on the grill setting for a couple of minutes till the cheese gets nice and melt-y. 
Then add the rest of the chickpeas and Indian salsa. Drizzle with 2 tablespoons of green chutney and tamarind chutney.  
Finally, add a dollop of coconut yoghurt and top with 1 tablespoon of guacamole.
Garnish with coriander leaves and enjoy!
Notes
I've just used store bought tamarind chutney. You can make your own but I don't find it worth the effort, store bought tastes just as good to me.
Did you try this recipe?
Let me know if you enjoyed it! Tag me on Instagram at
@bees_bites_