Chickpea and sweet potato curry is a great meal to make when you don't feel like doing a grocery run. Making this the perfect thing to cook while we're all staying at home in isolation.
What makes this recipe great is that it's almost exclusively made from canned goods like chickpeas, diced tomatoes and coconut milk. All you need to make this a complete meal are a few pantry staples. For me that includes my spices, onions, garlic and sweet potato.
Chickpea, the ever versatile bean, can be used in so many ways which is why I always have cans stacked at home. And diced tomatoes is a great base that can be whipped into a pasta sauce, a masala or a curry.
An elevated chickpea and sweet potato curry
I have chosen to add coconut milk to my chickpea and sweet potato curry. I feel it adds a layer to the dish that turns it from average to really good. If coconut isn't really your jam though, you can leave it out. This will essentially turn the dish into a channa masala.
Another optional here is the coriander leaves. I love my coriander and put it in almost anything I can. This ordinarily would not be an optional in my recipe but in the current situation, we have to go with the flow and be a lot less precious.
I wasn't able to get coriander leaves this time and I will admit the dish still tasted fine. So if you're one of those strange humans who think coriander tastes like soap, I will concede and tell you to go ahead and leave it out.
If you're looking for more pantry meals, check out my recipe for potato and leek risoni and butternut pumpkin pasta.
Hope you enjoy this recipe! And if you gave it a go, let me know what you thought of it in the comments below.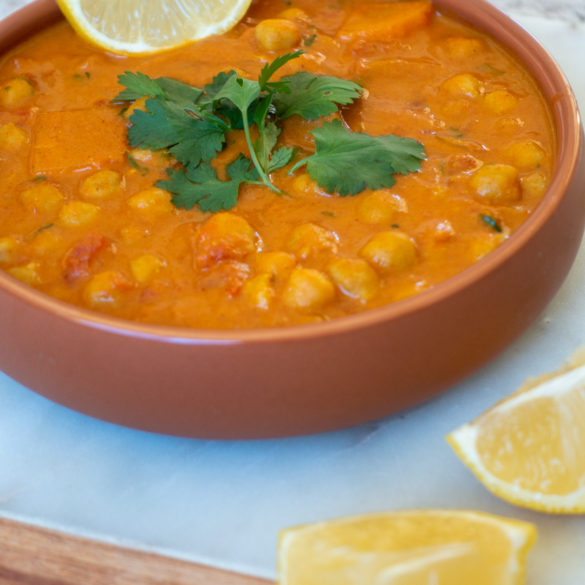 Ingredients
2 tbsp oil
1 onion
3 garlic cloves
1" ginger
2 cans, chickpeas
2 cans, diced tomato
3 medium-sized sweet potatoes
200ml full fat coconut milk
1 tbsp garam masala
1 tbsp cumin
1 tsp tumeric
1 tsp coriander powder (optional)
1 tsp chilli powder or red chilli flakes to taste
1/4 cup coriander leaves (optional)
Salt to taste
Method
Slice onion and finely chop garlic and ginger.

Sautee onion, garlic and ginger in 2 tbsp of oil.

Add garam masala, cumin and tumeric and cook for just a couple of minutes.

Add canned tomatoes and sweet potato. Cover the pot and leave to boil.

Once sweet potato has cooked through, add coconut milk, chickpeas and chilli flakes and simmer for a few minutes with lid on so the flavours infuse. 

Season to taste and garnish.

Enjoy! 
Notes
You can always add more coconut milk (up to 400ml) if you prefer a more coconut-y taste.
Did you try this recipe?
Let me know if you enjoyed it! Tag me on Instagram at
@bees_bites_